On day two of our Chicago mayor's race roundup*, we bring you a touching story of a young reporter and a fairly young politician.
In 1982, the Chicago Reader's Ben Joravsky was covering Richard M. Daley's first mayoral campaign. Joravsky requested an interview, and never got one--until last week (well, sort of.) Joravsky, who has spent his years at the Reader since that campaign hammering Daley every step of the way, was astonished that the mayor walked right up to him last week after a budget hearing at the South Shore Cultural Center. Joravsky's "Me and My Mayor: Reflections on the end of an error," is a must-read. Do it!
Meeks for Mayor?

As we pointed out yesterday, you can find a Chicago's mayor's race scorecard here if you are trying to keep track of who is running. Though he is still in the "rumored" category, Sen. James Meeks may be getting closer to an official announcement. NBC Chicago's Ward Room tweeted this on Friday: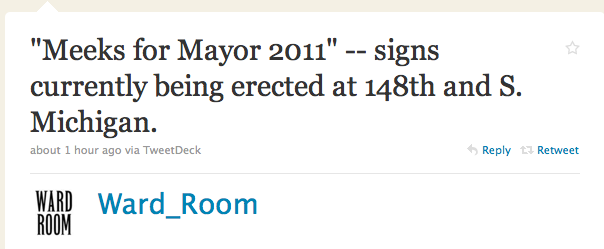 Mayor Daley's Sad Wikipedia Page

The Chicago News Cooperative's story on Mayor Daley's paltry Wikipedia page seems more like a call to action. "Considering his political legacy and two decades of service, Daley's Wikipedia biography is, well, rather unimpressive," the CNC reports. "This dearth of words has even been noted by Wikipedians themselves." They make a very good point--aside from his father, has Chicago ever seen a more colorful mayor? Geeks of the world, make us proud this weekend.
Carol Moseley Braun To Ditch Career In Organics?

Former U.S. Senator Carol Moseley Braun began a new life after politics: selling organic tea and coffee as the owner of Good Food Organics. But, as NBC Chicago reported Friday, she might be willing to leave that business behind for the Chicago mayor's race. She is considered an "in" candidate at this point, and is expected to make an official announcement Monday. "If I can make a difference, then perhaps there is another role besides me selling organic coffee and tea," she said Friday while touring Robeson High School in Englewood.
WATCH Moseley Braun speak to reporters Friday here:
*If you have any juicy gossip about the race, or a story you think we should see, send us an email at chicago@huffingtonpost.com.