On the basis of current polling, Republicans stand to gain roughly a dozen governorships, and possibly more. Right now, 26 of the nations governors are Democrats and 24 are Republicans. Our trend estimates based on public polls in the 37 states holding elections for governor this year show Republicans on the verge of gaining at least 11 seats.
Our focus this week has been largely on the U.S. Senate and particularly the outcome of the Delaware primary, which has boosted the prospects for that state's Democratic candidate and with it, the odds that odds that Democrats will maintain their Senate majority (despite significant losses). But the larger ongoing story this year is about a gale-force wind blowing in the Republican direction, and nothing demonstrates that trend as clearly as polling in the governors races.
The contests for governor have more potential volatility because more states (37) hold their gubernatorial elections this year and because so many of those (24) involve open seats. "It is always easier," writes Jennifer Duffy of the Cook Political Report (gated) "for the opposing party to win an open contest than it is to defeat a sitting governor." This higher than usual vacancy rate gives Republicans a better chance of capitalizing on a favorable political environment.
You can see that impact in the following table, which shows our current polling trend estimates in states now represented by Democratic governors. Polling in 13 states shows the Republican candidate leading, and 11 of those contests are open seats. The only incumbent Democrats currently trailing are Iowa's Chet Culver and Ohio's Ted Strickland.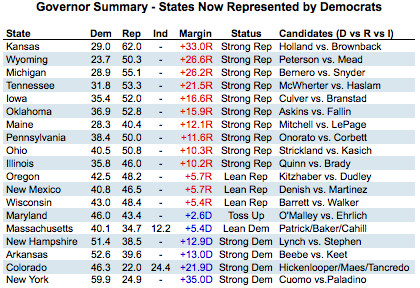 Two more incumbent Democrats are in potential jeopardy. In Maryland, Democrat Margin O'Malley leads by a "toss-up" margin of less than three points (46.0% to 43.4%). In Massachusetts, Democrat Deval Patrick leads Republican Charlie Baker by roughly five points (40.1% to 34.7%), but Patrick's margin has narrowed over the summer as support for independent Tim Cahill's support has trended down.
Meanwhile, Republicans are running comfortably ahead in holding most of the states currently represented by a Republican. All of the five seats either trending Democratic or in the toss-up category are open.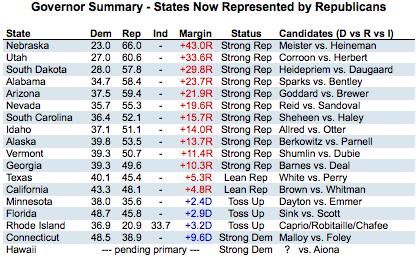 Only Connecticut and Hawaii look like probable Democratic pick-ups based on current polling. Hawaii holds its primary elections tomorrow, and the two candidates competing for the Democratic nomination-- Neil Abercrombie and Mufi Hanneman -- both hold comfortable leads over likely Republican nominee Duke Aiona.
Our trend estimates do show Democrats with nominal advantages in Minnesota, Florida and Rhode Island, but all three margins are close enough to merit a "toss-up" designation.
Add it all up, and we show Republicans on the verge of flipping 13 states from blue to red, and Democrats on the verge of flipping two states from red to blue, for a net Republican gain of 11 seats. One small consolation for Democrats: Of the four contests currently close enough to merit our "toss-up" designation, three are currently represented by Republican governors.
But a caution: These statistics are all based on constantly evolving polling "snapshots" which reflect preferences "if the election were held today." In some states, the number of polls is small and their reliability may be questionable. Moreover, the efforts of some campaigns to communicate via paid advertising are just getting underway in many states.
On that score, it's worth noting that the Cook Political Report, which considers more than just polling in its assessments, still rates as toss-ups six of the states where we show Republicans on the verge of a pick-up (Illinois, Iowa, New Mexico, Ohio, Oregon). It also still rates Maine as lean Democrat. So public polls alone may not tell the full story in some states
Still, a quick glance at the many statewide polls available -- including nearly 50 released in September -- makes it very clear that Republicans stand to make major gains in races for governor in 2010.