Another thing that the rich people are doing? Funding their own, often quixotic runs for office! We've been happily following our favorite self-funders throughout this election season (our basic conclusion: yachts are good in Connecticut, bad in Florida), but the Washington Post has done everyone a service by widgeting up a great table on the 2010 self-funders.
If you set the self-funder field by the dollar amount spent per vote, the track record of the self-funders is not good. The overall win-loss record for everyone who has spent more than $100 for each vote is a dismal 2 and 9, with only Connecticut Senate contender Linda McMahon and New York 1st District GOP nominee Randy Altschuler notching a primary win.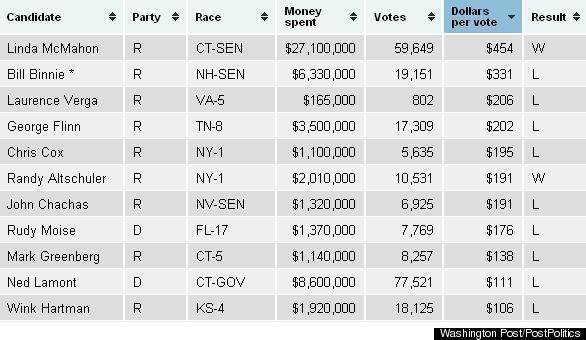 But here's why the uber-wealthy shall never be deterred from funding their own political ambitions: if you sort the field by raw dollar amount spent, it lends credence the notion that you can pay the cost to be the boss. Of the top ten, five are still in the hunt. But you better go large! Those who have spent $25 million or more are currently 3 and 1, the lone loser being Steve Poizner, who had the misfortune of going up against Meg Whitman in the California GOP gubernatorial primary.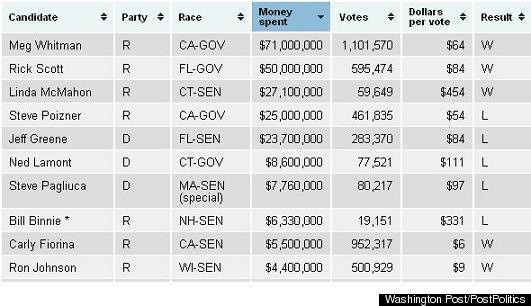 Of course, that only tracks the amount of money these candidates have spent thus far. The big news this week is that after another injection of her own money, Whitman is prepared to spend $119 million to win the right to govern California. Whitman thus passes New York City Mayor Michael Bloomberg for the largest personal contribution in American campaign history. Hope it's worth it!
[Would you like to follow me on Twitter? Because why not? Also, please send tips to tv@huffingtonpost.com -- learn more about our media monitoring project here.]