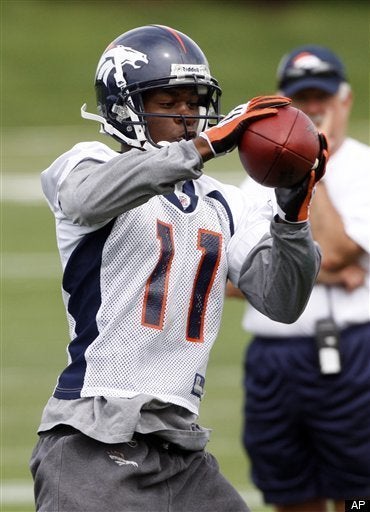 Arapahoe Count Sheriff Grayson Robinson told the AP that authorities found McKinley dead at his home of what is believed to be a self-inflicted gunshot wound.
McKinley, 23, was placed on injured reserve prior to the start of the 2010 season. A fifth-round draft pick in 2009, McKinley played in 8 games as a return specialist his rookie year.
He graduated as South Carolina's all-time leading receiver with 207 catches for 2,781 yards.
Coach Josh McDaniels said "Kenny had a promising future on the football field, but more importantly, he was a great teammate whose smile and personality could light up the room. This is a tragic loss for our football team, and his family is in all of our thoughts and prayers during this difficult time."
McKinley's college coach, Steve Spurrier, told the AP "Kenny was certainly one of my all-time favorite players. It's hard to figure out why it happened like this."
As KDVR points out, McKinley is the third Broncos player in the last four years to die a sudden death. Cornerback Darrent Williams was killed in a drive-by shooting on New Years Day, 2007, while running back Damien Nash died during a pickup basketball game in February, 2007.
KDVR's Josina Edwards talks about Kenny McKinley's apparent suicide