Just last week, Senator Lisa Murkowski (R-AK) did something that no other American politician had done before -- she lost an election to Tea Party insurgent Joe Miller (or, as he's known to the New York Times, "Jeff Miller"). But can she follow up that achievement by becoming the first American politician to lose two elections to Miller? Her campaign is well on its way!
See, Murkowski has decided to keep her thin re-election hopes alive by mounting a write-in campaign for her Senate seat. Election math guru Nate Silver says she's got a shot at success. But her primary challenge -- besides finding more people to vote for her -- is to remind Alaska voters what her name is. Sadly, she's out of the gate with an advertisement that doesn't do that cause any favors.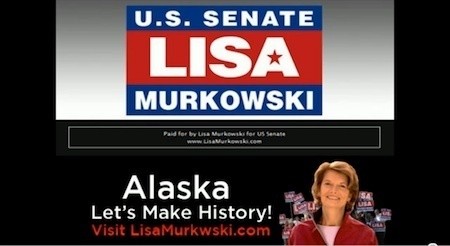 The good news is that Alaska elections director Gail Fenumiai has already made it clear that voters won't have to spell her name correctly for their vote to be counted. The bad news is that some enterprising Joe Miller fan has already set up shop at the erroneous web address.
[Via Ben Smith]
[Would you like to follow me on Twitter? Because why not? Also, please send tips to tv@huffingtonpost.com -- learn more about our media monitoring project here.]