***UPDATE***
Update (9/21): Earlier today, PPP released a new survey of West Virginia that shows Republican John Raese leading Democrat Joe Manchin, 46% to 43%. Our trend estimate now splits the difference between the two most recent polls, leaving the race essentially even (Manchin 47.1%, Raese 46.3%).
---
The smattering of new statewide polls released over the last few days yields no new significant trends, although a new poll on the West Virginia Senate race shows the Democrat, Joe Manchin, maintaining narrow but consistent lead over Republican candidate John Raese in September.
The new survey, from automated pollster Rasmussen Reports, gives Manchin a seven-point lead (50% to 43%). Rasmussen is the only pollster to release results in West Virginia since July, but their last three polls conducted over the last four weeks show Manchin leading by 6, 5 and 7 percentage points respectively, for an average of 50% Manchin, 44% Raese. While those margins are far closer than what Rasmussen and other pollsters measured earlier in the summer, voter preferences in West Virginia appear to have stabilized, at least for now, leaving Manchin with a modest lead.**
Other recent polls of note:
Two new polls released over the weekend in Pennsylvania confirm the single digit lead that Republican Pat Toomey has held over Democrat Joe Sestak since July. Both the live-interview Wilkes Barre Times Leader poll and a PoliticsPA/Municipoll automated survey yield much larger numbers of undecided voters than other recent surveys, but the effect on our overall trend estimate) is minimal. Our trend estimate now shows Toomey leading Sestak by eight points (46.7% to 38.7%). All eleven public polls released in August and September have shown him leading by margins ranging from 2 to 11 percentage points.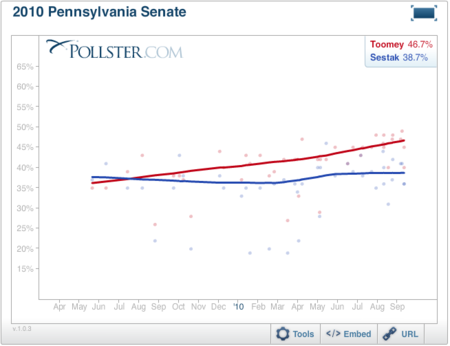 This past Friday, Rasmussen Reports also released another automated poll yesterday on the Massachusetts governor's race that shows Democrat Deval Patrick running just three points ahead of Republican challenger Charlie Baker (45% to 42%), with independent Tim Cahill falling to just 8%. Massachusetts is another state where Rasmussen has produced most of the recent polling -- three of the four surveys released in August and September. Rasmussen's surveys of likely voters have shown a steady decline in support for independent Cahill, from 23% in April to 8% on the current survey, although a poll of all registered voters conducted in late August by the State House News and KRC/Communications Research showed Cahill winning 18% of the vote and slightly larger Patrick lead over Baker (34% to 28%).
**The recent polling in the West Virginia Senate presents a scenario that our classic polling chart does not handle well. With fewer than seven polls available, our standard practice is to draw a linear trend line (or, in plain English, a straight line) through the data points. In this case, the straight line tries to reconcile two polls conducted in July that showed Manchin leading by more than 20 points with the three more recent Rasmussen polls showing consistently narrower margins. The result is that the trend lines converge on an estimate of the margin that is closer than any of the last three surveys. Since the last three Rasmussen surveys show no discernible trend, we've opted to report on the average of those surveys rather than our chart's trend estimate.