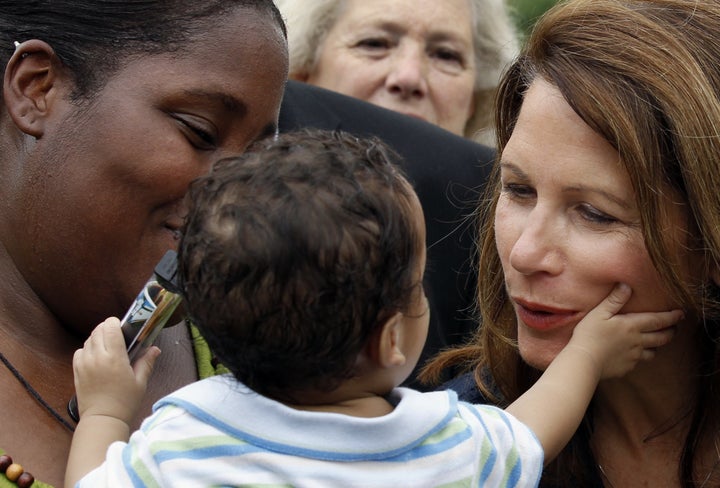 As lawmakers push for legislation to increase stability in the lives of foster children, a recent study found that foster children score lower on standardized tests than their peers.
Preliminary results from a pilot study found that one in 10 foster youth are proficient in math by the 11th grade and just over two in 10 foster youth will be proficient in English by the 11th grade. Complete findings from the pilot project authored by the California Partnership for Achieving Student Success (Cal-PASS) will be released this winter.
"Seeing the foster care system firsthand, I understand the unique challenges foster children face," said Rep. Michele Bachmann (R-Minn.), who last year introduced the School Choice for Foster Kids Act last year. The bill, which would allow foster parents to send any foster child to his or her original school through education vouchers from the Chafee Foster Care Independence Program, has 23 cosponsors.
At a press conference on Thursday, Sens. Mary Landrieu (D-La.) and Chuck Grassley (R-Iowa), as well as Representative Jim McDermott (D-Wash.), joined Bachmann in calling for Congress to take immediate action to increase stability and improve educational outcomes for foster children.
"Building upon the Fostering Connections to Success Act, which calls for an increased focus on school stability, Congressional advocates of foster youth have drafted several pieces of legislation mandating that state and local education agencies work in coordination with child welfare agencies to eliminate enrollment delays and difficulties in transferring course credits," said Landrieu. "Senator Franken's Fostering Success in Education Act, in particular, is a great example of legislation that would ensure that both education and child welfare entities take responsibility for the educational outcomes of youth in care."
The legislation referenced by Landrieu, sponsored by Sen. Al Franken (D-Minn.), would direct child welfare agencies to collaborate with local school districts to ensure that foster children remain in their current schools after they move to new school districts if it's in their best interest.
Franken's office is reportedly working with the Committee on Health, Education, Labor and Pensions, and also with the Finance Committee to try to include the legislation or some of its most important provisions in No Child Left Behind reform legislation that is expected to move next year, a Democratic aide tells HuffPost.
For students such as Christina Miranda, a foster child from the Reading, Pennsylvania, constant moving has a direct impact on school work. "I remember moving a lot and that was pretty painful. I had the realization that I wasn't a normal student with a normal life. I remember feeling like there was no reason to try because I knew I was going to leave anyway."
Bachmann, who has five biological children and has mothered 23 foster children, emphasized that lawmakers are not the only ones who can make a difference, telling the story of how she got her first glimpse of foster care.
"Another couple in our church were foster parents," Bachmann told reporters. "My husband and I looked at each other, something quickened in our hearts, and we thought you know, maybe we could stretch our home to do this -- to take in a foster child."
Bachmann recommended that other Americans follow her lead, saying perhaps the most important thing for a child is to know that there's at least one person in the world who is absolutely crazy about them. It's no substitute for passing legislation but there's something everyone can do, she said.
"It worked for our family," said Bachmann. "And I would highly recommend that parents all across America consider opening their hearts and opening their homes."