Are the Democrats experiencing a rebound on the Pacific Coast? Three new surveys, two in California and one in Washington State, indicate small gains for the Democrats since mid-August. More specifically, two new California polls confirm that Democratic Senator Barbara Boxer is maintaining a narrow lead over Republican challenger Carly Fiorina.
A new Field poll of California released this morning shows Boxer leading Fiorina by six percentage points (47% to 41%), while a new automated SurveyUSA poll yields fewer undecided voters but gives Boxer the same six-point advantage (49% to 43%). A handful of automated surveys in late August and early September suggested a tighter race, including two earlier polls from SurveyUSA that gave Fiorina a slight edge, but the last five surveys conducted since mid-September all show Boxer with nominal leads.
Our standard trend estimate, based on all available public polls, now shows Boxer leading by a roughly three-point margin (47.5% to 44.3%). Our more sensitive trend line, shown below, illustrates the tightening in late August. Since the current estimate from that line gives greater weight to more recent polls, it gives Boxer a slightly larger lead (47.8% to 43.2%).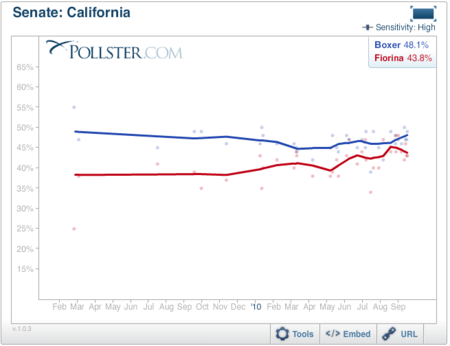 The two new California polls also suggest a reversal of the previous trend favoring Republican Meg Whitman. The Field poll results released yesterday show
Whitman tied with Democrat Jerry Brown (at 41% each), while SurveyUSA gives Brown a small but statistically insignificant advantage (46% to 43%). So while six surveys had shown Brown with nominal leads in August and early September, the five most recent polls show either a tie or a slight Brown edge.
Our standard estimate shows a slight Whitman lead (45.9% to 44.4%), but our more sensitive trend line points puts Brown ahead by a single percentage point (45.5% to 44.1%). Either way, the California governor's race is currently the closest in the nation.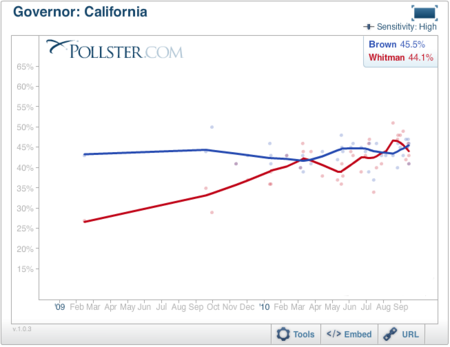 SurveyUSA also released new data this week in Washington confirming a similar rebound by Democratic Senator Patty Murray over Republican challenger Dino Rossi. The new automated poll gives Murray a two-point edge (50% to 48%), a marked improvement from their last survey in mid-August showing Rossi leading by seven. Our trend estimate now shows Murray ahead by roughly five points (50.8% to 45.8%), as all four surveys released in the last two weeks show Murray at least nominally ahead. Rossi continues to do slightly better on automated surveys by SurveyUSA and Rasmussen than on live interviewer polls conducted recently by CNN/Time and the Elway Poll.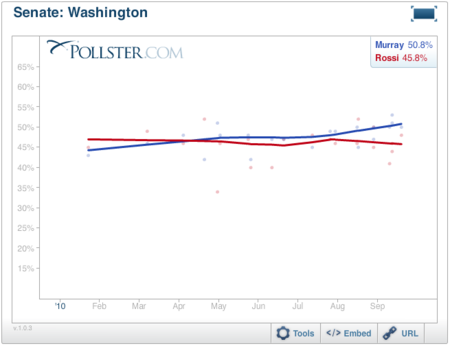 Elsewhere, Democrats also received encouraging news in Florida, where a new Mason-Dixon poll shows Democrat Alex Sink holding a six percentage point lead (47% to 40%) over Republican Rick Scott. That margin is slightly better than on our trend estimate, which has Sink ahead by just over three points (49.6% to 46.4%), but five of the six polls conducted in September have shown Sink with nominal leads.