Perhaps it's the calm before the storm, but the first weekend of October brought only a smattering of new statewide polls that confirm Republican advantages in the Colorado and Wisconsin Senate races, a very close contest in Illinois and an intriguing trend in Colorado's race for governor.
The weekend produced two new polls in Colorado. A traditional live-interviewer survey conducted by the new McClatchy News Service/Marist University polling partnership Republican shows Ken Buck leading Democratic Senator Michael Bennet by eight points (50% to 42%), while a new automated Denver Post/SurveyUSA poll published yesterday has Buck leading by five (48% to 43%). Our trend line estimate of all public polls puts Buck ahead by nearly six (49.1% to 43.4%).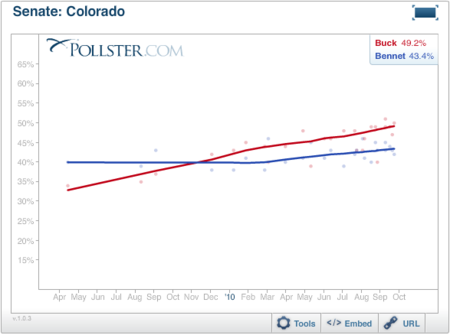 The two new Colorado polls also confirm an unusual trend in the state's race for governor. Democrat John Hickenlooper leads comfortably, but support for the third party candidacy of arch conservative Tom Tancredo has overtaken that of Republican nominee Dan Maes. Our current trend estimate splits the difference between the two new polls, and shows Hickenlooper at 46.6%, Tancredo in second place with 33.9% and Maes a distant third at 15.7%.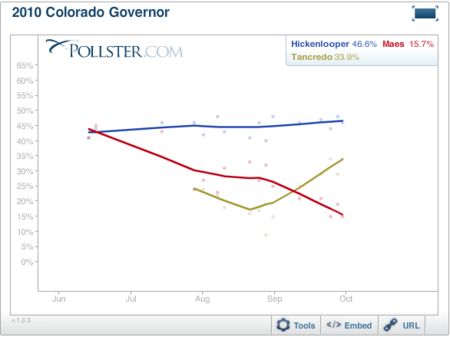 The new McClatchy/Marist poll in Wisconsin shows Republican Ron Johnson leading Democratic Senator Russ Feingold by seven points (52% to 45%), a result virtually identical to our overall trend estimate (52.7% to 43.7%).
Both McClatchy/Marist and Rasmussen Reports released similar new results on the Wisconsin's governor's race showing Republican Scott Walker leading Democrat Tom Barrett by eight and six percentage points respectively. Our trend lines have been flat for that race all year, and now show Walker leading by seven (50.5% to 43.3%).
In Illinois, a new Chicago Tribune-WGN/Market Shares Corporation poll shows roughly the same dead-heat contest as other recent surveys, with Democrat Alexi Giannoulias up by a not statistically significant two percentage points over Republican Mark Kirk (38% to 36%). The two most recent surveys (from the Tribune and CNN/Time) used live interviewers, and gave Giannoulias a 1-2 point edge. Three automated surveys conducted a week ago gave Kirk advantages of 2-4 points. Our trend estimate splits the difference and shows a virtual tie (Kirk 39.8%, Giannoulias 39.0).
And finally, McClatchy/Marist's new Pennsylvania poll shows Republican Pat Toomey leading Democrat Joe Sestak by nine points (49% to 40%), a result consistent with though slightly better for Toomey than our trend estimate of other recent surveys (Toomey 47.9%, Sestak 40.3%).