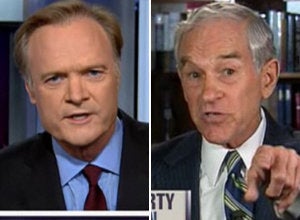 Lawrence O'Donnell sparred with Ron Paul Monday night on MSNBC's "The Last Word."
When O'Donnell asked Paul about his son, Tea Party GOP candidate for Senate from Kentucky Rand Paul, Paul claimed that it was a violation of his pre-show agreement with O'Donnell's producers.
"One of the agreements we had when I came on your show was we weren't going to talk about other candidates, so I'm not going to talk about other candidates," Paul told O'Donnell.
"Just a second," O'Donnell said. "I wasn't part of any agreement in you coming on the show. If someone made an agreement with you, I don't know about it."
"I think that's impolite then," Paul said.
That set the tone for a contentious interview, during which the pair discussed term limits, Medicare and civil rights, with Paul often accusing O'Donnell of trying to put words in his mouth.
O'Donnell also routinely nailed Paul, whether by asking him whether he'd impose term limits on himself or by forcing him to defend his 2004 comments in which he said that the 1964 Civil Rights Act did not "enhance freedom."
But by the end of the interview, Paul just wanted to come back to the supposed pre-show agreement regarding interview topics.
"Check with your staff, too!" he shouted at O'Donnell. "Check with your staff about your agreements. You just were very discourteous on what you have done, and this is not the debate that you had asked for."
WATCH: