Democrats have reasons to be cautiously optimistic about keeping control of the U.S. Senate, especially given a new poll showing a dead heat in Colorado between Democratic Senator Michael Bennet and his Republican challenger Ken Buck. But the party is not out of the woods yet. Republican candidates hold razor-thin margins, as of this hour, in four key toss-up battlegrounds and could still bring the division of the Senate to a 50-50 tie if they sweep all four.
Let's begin with the latest polls in the key battleground states:
In Colorado, a new automated poll conducted by SurveyUSA for Denver Post and KUSA-TV shows a 47%-to-47% tie, representing a five-point net gain for Bennet since their last survey in late September That result comes on the heels of three surveys released last week by other pollsters showing Buck with slight advantages ranging from 1 to 3 percentage points. The new poll narrows Buck's lead on our trend estimate (essentially an average of all available public polls) to just 1.5 points (46.9% to 45.4%). Our model now estimates his probability of prevailing at just 68% -- just low enough to consider Colorado a toss-up.
(Note: more details on how we calculate these probabilities here).
In Illinois, two new polls released over the weekend yield nearly identical razor-thin margins favoring Republican Mark Kirk over Democrat Alexi Giannoulias. A Mason-Dixon/St. Louis Post Dispatch survey shows Kirk with a two-point edge (43% to 41%), while a new Chicago Tribune-WGN/Market Shares poll favors Kirk by three points (44% to 41%). Our trend estimate gives Kirk a less than one-point advantage (42.0% to 41.6%) and a barely better than 62% chance of prevailing. As such, we continue to consider this race a toss-up.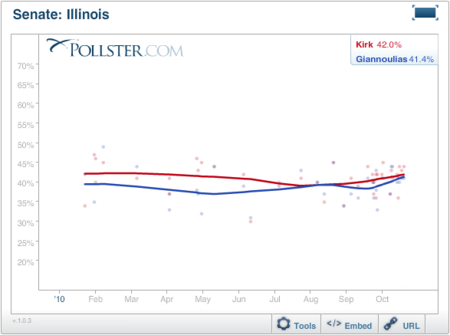 In Pennsylvania, last night's update of the Daily Call/Muhlenberg University daily tracking poll now shows Republican Pat Toomey leading Democrat Joe Sestak by five percentage points (47% to 42%). That result is very similar to the four-point Toomey advantage (48% to 44%) on last week's Rasmussen automated poll. It represents an improvement for Toomey over the course of Muhlenberg's two weeks of tracking and a slightly better standing for Toomey than polls released last week by Quinnipiac University and Public Policy Polling (PPP). Our trend estimate now gives Toomey a slightly better than two-point advantage (46.7% to 44.5%) and enough probability of prevailing (82%) to merit a lean-Republican status.
In West Virginia, Joe Manchin's campaign released an internal poll over the weekend showing the Democrat leading Republican challenger John Raese by five percentage points (48% to 43%). West Virginia's polling this fall has been a story of Rasmussen versus everybody else. The automated pollster and their Pulse Opinion Research subsidiary (which conducts surveys using an identical methodology for Fox News), has conducted six surveys since late September showing Raese leading by margins of between two and seven percentage points. Meanwhile, five other polls (including two sponsored by the Manchin campaign and the Democratic party, and one conducted by Democratic-affiliated PPP) have shown margins ranging from a tie (CNN/Time) to a 10-point Manchin lead (Marshall University/Orion Strategies).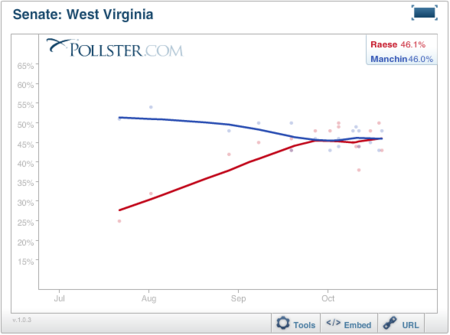 Our trend estimate, which combines all of the publicly released surveys, shows a virtual tie (46.1 Raese, 46.0 Manchin) -- currently the closest Senate race in the nation.
In California, a new survey conducted for the Los Angeles Times and USC by a bipartisan team of campaign pollsters (the Democratic firm Greenberg-Quinlan-Rosner and the Republican firm American Viewpoint) shows Democratic Senator Barbara Boxer leading Republican challenger Carly Fiorina by eight points (50% to 42%). That result is better for Boxer than the two-point margins obtained by Rasmussen Reports and SurveyUSA, and the tie shown by a Republican party sponsored internal poll last week.
Our latest trend estimate gives Boxer nearly three-point advantage (46.7% to 43.9% as of this hour), enough to bring her to a probability of prevailing to 85% or "lean Democrat."
So altogether, the race to control the Senate stacks up as follows. The Democratic Caucus (which includes independents Bernie Sanders and Joe Lieberman) now has 59 members. Republicans would win an absolute majority by gaining 10 seats. Democrats would continue to control the Senate in the event of a 50-50 tie, since Vice President Joe Biden would cast a tie-breaking vote for Majority Leader, although that scenario depends on the continuing loyalty of Joe Lieberman.
Currently Republican candidates are leading in every 2010 contest in states currently represented by a Republican. The following table, which shows our trend estimates for contests in the states currently held by Democrats, shows Republicans virtually certain to gain three seats (in North Dakota, Indiana and Arkansas) with two more (Wisconsin and Pennsylvania) leaning Republican. That leaves four states currently represented by Democrats in our toss-up column: Colorado, Nevada, Illinois and West Virginia. A Republican sweep of the lean and toss-up seats would narrow the division of the Senate to 50-50.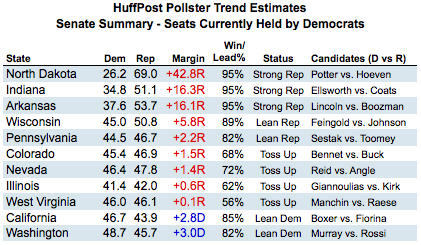 Here is the paradox: Our model considers the odds of such a sweep to be remote, so much so that as of this hour it puts the probability of Democrats holding at least 51 seats at 89%. Yet Republicans are narrowly leading in all four toss-ups (if you count the nearly meaningless 0.1 Raese margin in West Virginia). So while a Republican sweep is against the odds, it is still conceivable. Moreover, the Democratic margins in California and Washington remain relatively close. Should the final round of polls this week show those contests closing, the odds of a Republican majority could increase significantly.
Note: Our newly-updated trend estimate model assesses the trends across all races, so whenever we add a new poll in any state, the probabilities and trend estimates for all races will change very slightly (usually no more than a tenth of a percent or two for the trend estimates).
Follow Mark Blumenthal and HuffPost Pollster on Twitter