In its ongoing efforts to help you learn about the extent to which your public servants have been purchased by powerful moneyed interests, the Sunlight Foundation keeps coming up with simple, yet effective innovations. Its latest trick? Snapshot postcards of lawmakers that detail the major contributions that have been made to their campaigns:
Want to make sure your friends and family are informed about just who they're voting for in the upcoming midterms?

With an unprecedented amount of money flowing into this year's midterm elections, help your friends and family follow the money by sending a customized postcard or three right from this website - no stamps necessary - about the elections happening in their community.

Each postcard will show the industries and organizations that contribute the most to the candidate (or candidates) you choose. Make it personal by writing a note to tell your friend or family member about why you want them to see the money and influence this political season.
With just a few clicks on some pull-down menus, here's what you get: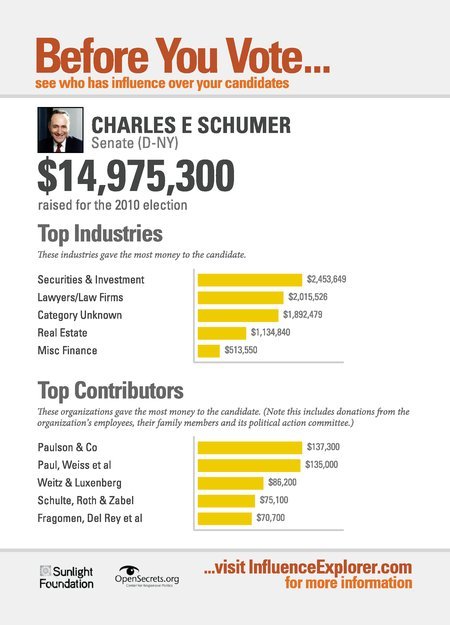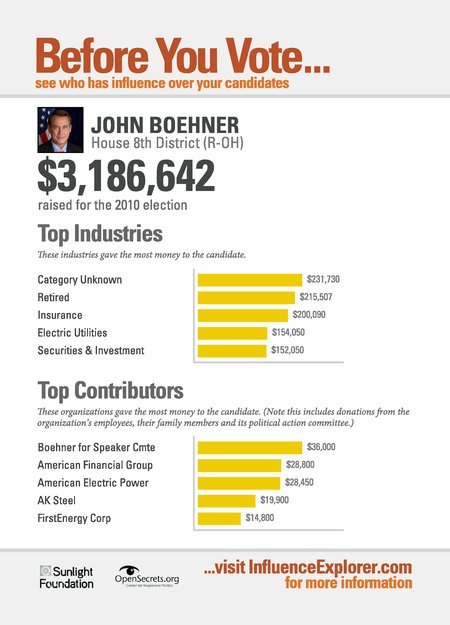 You can even get an at-a-glance snapshot of an individual race: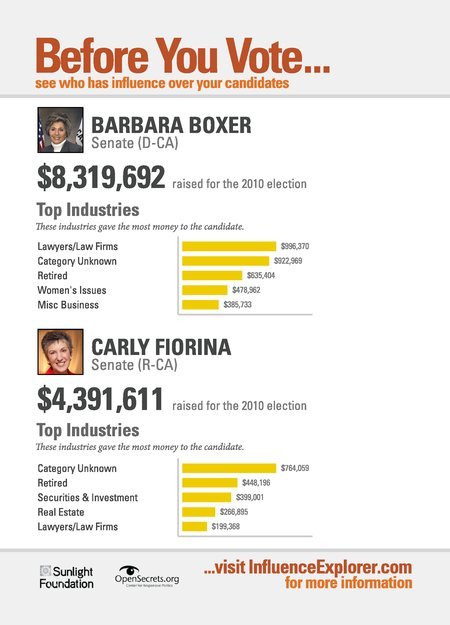 For $2, you can send your postcard to a friend or family member. All in all, it's more good stuff from an organization that's already done some amazing things this year in the name of greater transparency.
[Hat tip: Boing Boing]
PREVIOUSLY, on the HUFFINGTON POST:
Sunlight Foundation Launches Poligraft, Bringing New Transparency To Political Reporting
FinReg Negotiations: Use Sunlight Live To Watch Them
[Would you like to follow me on Twitter? Because why not? Also, please send tips to tv@huffingtonpost.com -- learn more about our media monitoring project here.]