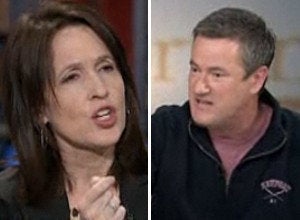 On Thursday's "Morning Joe," Joe Scarborough and Katrina vanden Heuvel, editor of The Nation, got into a heated debate about President Obama's relationship with progressives.
"Do you think the far left needs -- or progressives need to give Barack Obama a break?" Scarborough asked vanden Heuvel.
"The far left in my view has many--is really in the mainstream in many ways in this country," she responded. She went on to say that Obama should welcome progressive forces "to counter the establishment forces in this country" and that "he would be well advised in this next period to remobilize a base that he demobilized in favor of an inside-the-Washington-beltway governance, because he's going to need us."
Scarborough countered that Obama would face an inherent problem if he tried to govern as a progressive.
"If you're a Democrat, you've got to run as a moderate, because the numbers don't add up," he said. "Poll after poll after poll shows we're a center-right nation--"
Vanden Heuvel cut in, saying, "I disagree, let me finish--"
"I am not going to let you finish," Scarborough shot back. "I have got to give you facts and then you can respond to facts."
A round of high-decibel crosstalk followed, as vanden Heuvel kept trying to make her point, and Scarborough kept trying to cut her off, pointing his finger at her and saying, "listen to numbers! Just stop and listen to facts." Eventually, he relented, saying, "Okay, alright, go ahead, Katrina."
The discussion calmed down then, with vanden Heuvel saying that a "transpartisan" coalition could be built around issues such as protecting Social Security, taking action against big banks and getting money out of politics. Scarborough's other guests, Carl Bernstein and Jon Meacham, said they agreed broadly with vanden Heuvel, with Meacham saying that the definitions of left and right "are totally scrambled right now."