WASHINGTON -- New surveys released yesterday, including a new batch from the CNN/Time polling partnership, confirm the emerging picture of the U.S. Senate races: The Colorado Senate race has drawn to a virtual tie and Illinois remains very close, while Nevada tips Republican and West Virginia Democratic. If the Democrats hold their margins in West Virginia and two more close but leaning blue states -- California and Washington -- they will maintain a Senate majority of at least 51 seats.
In Colorado, four polls conducted in the last week now show the two candidates, Democratic Senator Michael Bennet and Republican challenger Ken Buck within a single percentage point of each other. Yesterday's new CNN/Time poll gives a statistically insignificant edge to Buck (47% to 46%), while a new survey conducted by the Colorado based Democratic firm RBI Strategies (but not sponsored by the Bennet campaign or the Democratic party) had Bennett up a point (43% to 42%). Polls released earlier in the week by the Democratic firm Public Policy Polling (PPP) and the Denver Post and SurveyUSA both showed dead-even margins.
The four most recent results bring Buck's advantage on our overall trend estimate, based on all recent public polls, to less than half a percentage point (46.1% to 45.8%), now the closest Senate race in the nation.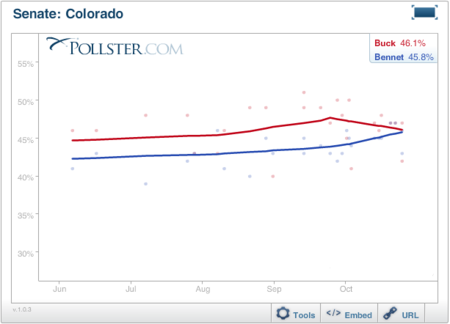 [Late update: A Rasmussen automated poll released this morning gives Buck a four-point advantage (48% to 44%).]
In West Virginia, for the first time since mid-September, a Rasmussen automated poll now shows Democrat Joe Manchin with a nominal advantage (49% to 46%). While other pollsters have previously shown Manchin leading by narrow margins, including the latest PPP poll that has Manchin leading by six (50% to 44%), the surveys conducted by Rasmussen and their Pulse Research subsidiary have given Republican John Raese the advantage. Our trend estimate gives Manchin a nearly two-point advantage (47.7% to 45.8%), just barely "lean Democrat" (76% probable to win) as of this writing.
In Illinois, a new Rasmussen automated poll gives Republican Mark Kirk a four-point edge over Democrat Alexi Giannoulias (46% to 42%). That's a little better for Kirk than recent surveys, although four of the last five completed in the last eight days give Kirk nominal leads of two to four percentage points. The internal poll sponsored by the Democratic Senatorial Campaign Committee (DSCC) shows Giannoulias up by 2 (38% to 36%). Our trend estimate continues to give Kirk a very narrow advantage (42.3% to 41.2%) but still barely within a range we classify as a toss-up.
In Nevada, the new CNN/Time poll is the latest to show a narrow margin (49% to 45%) favoring Republican Sharron Angle. That poll shows Democratic Senator Harry Reid trailing by the same four-point margin (49% to 45%) as a Rasmussen automated poll released earlier this week. Five consecutive surveys in a row (albeit, three from Rasmussen) have given Angle nominal leads. Our trend estimate now shows her with a nearly three-point advantage (48.7% to 46.0%), enough to tip Colorado to lean Republican (based on Angle's current 79% win probability).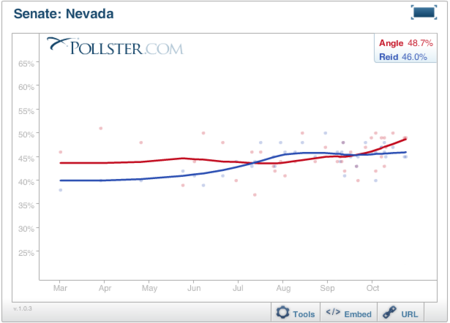 In Pennsylvania, the new CNN/Time poll is the latest to show Republican Pat Toomey with a modest lead over Democrat Joe Sestak (49% to 45%), but that margin is only a point closer than Toomey's lead on their previous survey in September (49% to 44%). Meanwhile, the latest update of the Muhlenberg College tracking poll shows Toomey leading by eight (48% to 40%).
Given the relatively small sample size of its daily releases, the Muhlenberg poll has shown considerable variation, but over the last 12 days their results have given Toomey an average lead of roughly three percentage points (45% to 42%). That margin matches our current trend estimate, which also gives Toomey a roughly three point lead (47.1% to 44.2%), a lead that qualifies as lean Republican.
We have also seen new polls in the last 24 hours in three of the toss-up governor's races:
In Florida, a new Quinnipiac University survey out this morning shows Democrat Alex Sink leading Republican Rick Scott by four points (45% to 41%), while a new Sunshine State News/Susquehanna Research survey shows Scott leading by two (47% to 45%). Our trend estimate now shows a dead even toss-up (44.8% for each candidate).
In Oregon, two new polls -- one sponsored by The Portland Tribune, Oregon Broadcasting and Portland's Fox 12, the other from Rasmussen Reports -- both show Republican Chris Dudley ahead of Democrat John Kitzhaber by three-point margins. Our trend estimate, which also considers four polls earlier in the month showing very narrow Kitzhaber leads, now gives Dudley a less than one-point margin (46.6 to 46.2%) -- this race is still very much a toss-up.
Finally, in Rhode Island, a new NBC 10-Quest poll shows Democrat Frank Caprio falling 12 points (from 37% to 25%) compared to their last poll three weeks ago, following Caprio's well publicized remarks telling President Obama to take his endorsement and "shove it." The previous NBC 10/Quest survey was the last to show Caprio leading. Two more recent Rasmussen surveys have given independent Lincoln Chafee single-digit advantages. Our previous trend estimate showed Chafee inching ahead of Caprio (33.3% to 31.3; we have not yet added the new survey to our database because NBC 10 did not include the survey's field dates in their article).
Note: Our newly-updated trend estimate model assesses the trends across all races, so whenever we add a new poll in any state, the probabilities and trend estimates for all races will change very slightly (usually no more than a tenth of a percent or two for the trend estimates).
Follow Mark Blumenthal and HuffPost Pollster on Twitter