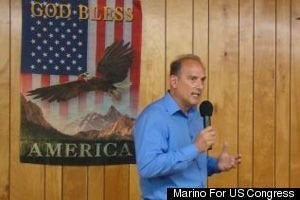 How big of a scandal does it take to make a congressional candidate unelectable? This year, if you're a Republican, it has to be pretty darn big.
Take GOP House candidate Tom Marino in Pennsylvania's Tenth District, located in the northeast corner of the state. As a US attorney, Marino gave a reference to his "close friend" Louis DeNaples, a convicted felon his office investigated for potential mob ties. When the Department of Justice reportedly launched an investigation into the reference, Marino resigned, and got a job working as DeNaples' in-house lawyer.
Since then, Marino has offered several different stories about whether he was authorized to give DeNaples the reference in the first place. (He wasn't.) But the scandal, which Marino's Dem opponent, Rep. Chris Carney, has harped upon in ads and speeches, seems to have had little impact on Marino's chances of ousting the two-term incumbent Blue Dog Dem. Nate Silver, the New York Times' polling guru, gives Marino a stunning 74 percent chance of winning on Tuesday.