Scroll down for photos, videos, and updates from the Rally To Restore Sanity and/or Fear.
WASHINGTON (AP) -- In the shadow of the Capitol and the election, comedians Jon Stewart and Stephen Colbert entertained a huge throng Saturday at a "sanity" rally poking fun at the nation's ill-tempered politics, its fear-mongers and doomsayers.

"We live now in hard times," Stewart said after all the shtick. "Not end times."

Part comedy show, part pep talk, the rally drew together tens of thousands stretched across an expanse of the National Mall, a festive congregation of the goofy and the politically disenchanted. People carried signs merrily protesting the existence of protest signs. Some dressed like bananas, wizards, Martians and Uncle Sam.

Stewart, a satirist who makes his living skewering the famous, came to play nice. He decried the "extensive effort it takes to hate" and declared "we can have animus and not be enemies."

Screens showed a variety of pundits and politicians from the left and right, engaged in divisive rhetoric. Prominently shown: Glenn Beck, whose conservative Restoring Honor rally in Washington in August was part of the motivation for the Stewart and Colbert event, called the Rally to Restore Sanity and/or Fear. It appeared to rival Beck's rally in attendance.

As part of the comedic routine, Stewart and his associates asked some in the audience to identify themselves by category, eliciting answers such as "half-Mexican, half-white," ''American woman single" and "Asian-American from Taiwan."

"It's a perfect demographic sampling of the American people," Stewart cracked to a crowd filled with mostly younger whites. "As you know, if you have too many white people at a rally, your cause is racist. If you have too many people of color, then you must be asking for something -- special rights, like eating at restaurants or piggy back rides."

With critical congressional elections looming Tuesday, Stewart and Colbert refrained from taking political sides on stage, even as many in the crowd wore T-shirts that read "Stewart-Colbert 2012."

Stewart sang along as Jeff Tweedy sang that America "is the greatest, strongest country in the world. There is no one more American than we."

Kid Rock and Sheryl Crow also performed, singing if "I can't change the world to make it better, the least I can do is care."

The idea was to provide a counterweight to all the shouting and flying insults of these polarized times. But there were political undertones, too, pushing back against conservatives ahead of Tuesday's election.

Slogans urged people to "relax." But also: "Righties, don't stomp on my head," a reference to a Republican rally in Kentucky at which a liberal activist was pulled to the ground and stepped on. And, "I wouldn't care if the president was Muslim."

Colbert, who poses as an ultraconservative on his show, played the personification of fear at the rally. He arrived on stage in a capsule like a rescued Chilean miner, from a supposed underground bunker. He pretended to distrust all Muslims until one of his heroes, basketball great Kareem Abdul-Jabbar, who is Muslim, came on the stage.

"Maybe I need to be more discerning," Colbert mused. He told Stewart: "Your reasonableness is poisoning my fear."

Shannon Escobar, 31, of Bangor, Pa., came with a group of 400 people on buses chartered in New York. A supporter of President Barack Obama in 2008, she said she's tired of nasty rhetoric from both sides and disenchanted with lack of progress in Washington.

"I want to see real change -- not Obama change," she said. "We need a clean slate and start over with people really working together."

A regular viewer of Stewart's "The Daily Show," she said she had a dream that he ran for political office, but got "corrupt and dirty."

"I need him to stay pure," she said, deadpan.

Stewart is popular with Democrats and independents, a Pew Research Center poll found. Colbert of "The Colbert Report" poses as an ultraconservative, and the stage was stacked with entertainers associated with Democratic causes or Obama's 2008 campaign.

Even so, Stewart said the day was about toning down anger and partisan division. "Shouting is annoying, counterproductive and terrible for your throat," he said on his website.
Comedy Central's park permit anticipated a crowd estimated in advance at 60,000.
------
Recap Saturday's events with the liveblog below:
Today, HuffPost's Sanity Buses brought nearly 10,000 people from New York to DC to attend the Rally to Restore Sanity and/or Fear, hosted by Jon Stewart and Stephen Colbert.
Follow our live blog below throughout the day for the latest updates from the rally, including video, photos, on-the-ground news and more. Or check out all of the hilarious rally signs that HuffPost readers thought up.
And be part of our coverage directly by sending us photos, videos, or text accounts from the scene -- just email election@huffingtonpost.com.
10/30/2010 11:22 PM EDT
Huge
CBS estimates that 215,000 people attended the Rally to Restore Sanity. That's nearly two-and-a-half times the number estimated to have shown up for Glenn Beck's "Restoring Honor" rally in August.
10/30/2010 10:10 PM EDT
CBS: Crowd Estimate On The Way
In a story about today's rally, CBS News explained that it would soon publish a "sure-to-be-controversial" crowd estimate.
In September, CBS News commissioned an estimate of Glenn Beck's Restoring Honor rally. They reported that roughly 87,000 people attended Beck's rally.
10/30/2010 9:49 PM EDT
'Fear Or Sanity?'
"Fear or sanity?" Arianna went into the crowd at Rally To Restore Sanity and asked attendees which sentiment most resonated with them.
WATCH:
10/30/2010 9:23 PM EDT
Articulating Sanity
A handful of riders on a HuffPost Sanity Bus told us why they were drawn to the rally.
Two of the most striking quotes from two different people:
"I'm a liberal, but that doesn't mean that I don't think Republicans have good ideas. But I think that the exchange of those ideas has become so stagnated, so separated. There is no exchange."
And...
"If a democracy has to function, I think that there should be a higher level of conversation. And I think this is an attempt to say that not everybody in this conversation needs to be so hateful, so opinionated, with total disrespect to the facts."
WATCH:
10/30/2010 7:24 PM EDT
Bound For Sanity
Before boarding buses outside Citi Field in New York, a few "Sanity" attendees explained why they decided to take part in the rally.
WATCH:

10/30/2010 7:05 PM EDT
Austin, Texas
HuffPost reader Lynn R. sends in scenes from the rally in Austin, Tex.:
10/30/2010 7:02 PM EDT
We Have Our Reasons
Arianna asked those riding HuffPost Sanity Buses why they chose to attend Saturday's rally.
WATCH:
10/30/2010 4:24 PM EDT
Oops!
Politico prominently featured a story about Saturday's Rally to Restore Sanity, in which the authors argue that Jon Stewart "walked a fine line between politics and humor." Just one problem. The photograph used to promote the story at the top of Politico's front page was taken from a rally of a very different sort -- Glenn Beck's August 28 "Restoring Honor" rally. Scroll down to see a screengrab from Politico's front page, as well as the AP photo from Glenn Beck's event.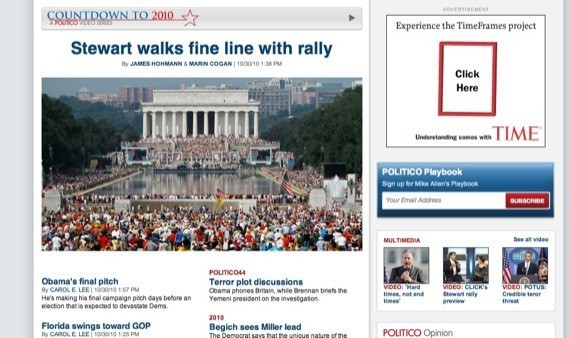 Original photo: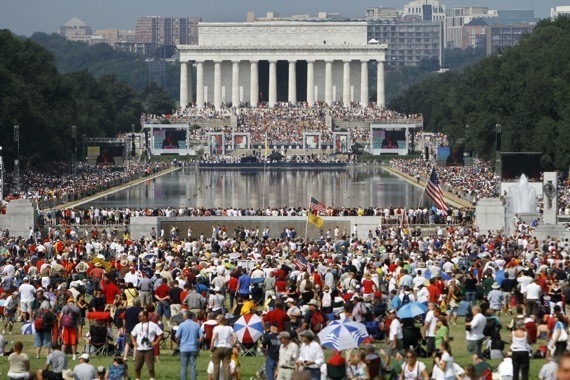 10/30/2010 3:30 PM EDT
Irrational Exuberance
From The New York Daily News:
Millionaire blogger Arianna Huffington is picking up the bus fare for more than 10,000 New Yorkers headed Saturday to Comedy Central's "Rally to Restore Sanity."

"It was a moment of irrational exuberance," Huffington joked in an interview with the Daily News, admitting she never expected so many people to take her up on the offer.

Now, about 250 buses later, Huffington, founder of the popular Huffington Post - the left-leaning news and opinion website - is believed to be forking over hundreds of thousands of dollars to drive New Yorkers to Washington and back home again.

She declined to say how much she's ponying up for the trip.

Dubbed by Huffington "the Sanity Bus," Citi Field in Flushing, Queens, is the staging ground for today's 6 a.m. departure.

Huffington also handed out free "flipcams" to 200 riders who wrote one-line sentences saying what they would do "to restore sanity" in America.

"Taking a stand for sanity is not a partisan position. It's neither right nor left. It's reasonable. We have to stop demonizing anyone we disagree with," Huffington said.