WASHINGTON -- With less than 24 hours before Election Day, widely varying poll results have political junkies scratching their heads. We have a lot of new data to review but the big picture boils down to this: If you believe the national poll results released last night by the Gallup Organization, the granddaddy of all pollsters that has been measuring voter preferences on mid-term elections since the 1950s, the Republicans are poised to win a victory of nearly unprecedented scope, winning a huge majority in the House and probably taking control of the Senate as well. If you believe the aggregate of all the other polls -- nationally as well as state and district level -- Republicans will likely gain a narrow majority in the House but fall short in the Senate.
National Vote
The national polls have continued to diverge widely over the weekend, especially in terms of their results on the so-called "generic" question that asks, without providing specific names, whether voters intend to support the Republican or Democratic candidate in their congressional district. The results released over the weekend ranged from the four-point Republican advantage (49% to 45%) on the ABC News/Washington Post poll to the extraordinary 15-point Republican tsunami (55% to 40%) forecast by the venerable Gallup poll.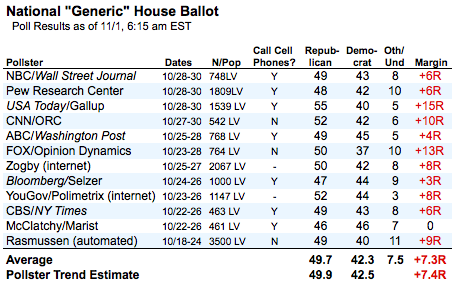 Our current generic House ballot trend estimate shows Republicans with a 7.3 point lead (49.9% to 42.5%), virtually the same margin as a simple average. To be clear, even a 4-5 point lead will likely produce a Republican majority in the House of Representatives, so the question here is mostly about the size of that victory. But the 7 point average may not be the most accurate number in this case, because the very wide spread cannot be explained by simple random error.
Striking as it is, this final divergence has some precedent, as the final round of generic vote results produced in just before the 2006 election showed a similar spread, with Democratic leads that varied from 4 to a 20 points. Democrats won the national two-party vote for Congress by roughly seven points, so the narrower Democrat margins ultimately proved to be closer to the truth in a year when Democrats enjoyed a substantial enthusiasm advantage.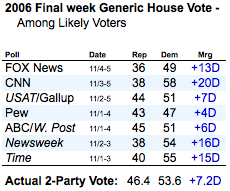 Simply put, we know that some of these estimates of the national vote are wrong -- the question is, which ones? The spread in the national results resists easy explanation. For example, as the table below shows, the spread of results among likely voters as measured by the most recently released polls is just as wide as the spread among all registered voters -- a net difference of 11 point either way.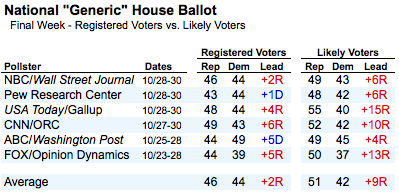 Moreover, that spread is just as wide among the pollsters that sample and interview voters over both landline and mobile phones: Both Gallup and the ABC News/Washington Post surveys, for example, interview via cell phone.
The fact that Gallup has produced what is arguably the outlier of the final polls is extraordinary. Gallup has been asking the generic vote question to measure national vote preference with considerable accuracy since 1950. "Only once in 60 years," as the Weekly Standard's Jay Cost notes, "has the Gallup generic ballot underestimated Democratic strength by a significant amount - by 2% in 2006. On average, it slightly overestimates the Democrats, by 0.7%."
And if Gallup is right, it implies an almost unprecedented Republican sweep on Tuesday. As Emory University political scientist Alan Abramowitz explains via email, "Republicans have never had anything close to a 15-point popular vote margin in the past 80 years." Their biggest national margin in that period was "7 points in 1946, followed by a 6 point margin in 1994." A 15-point majority this year, he adds, "would probably result in a gain of close to 80 seats and between 250 and 260 GOP seats in the new House, more than in any Congress since the 1920s.
U.S. House
How do the national polls and their measure of the "generic" congressional vote? We have now compiled public polls in 119 individual districts including virtually all the competitive ones. While the House district polling lacks the depth of the statewide polls, and can sometimes produce misleading results within individual districts, our previous compilations in 2006 and 2008 have produced largely unbiased estimates of the ultimate seat count.
Right now, the probabilities produced by our House model show Republicans leading in enough of the marginal seats to bring their total to 213 seats to 194 for the Democrats with 28 seats still on our toss-up category. As of this hour, if we allocate the toss-ups based on the candidate our model considers most probable to win in each district (regardless of the margin), we would project 226 seats for the Republicans and 209 seats for the Democrats -- representing a net gain of 48 seats for the Republicans.
That margin, if accurate, is far more consistent with a Republican advantage of 5 to 6-points on the national generic ballot than the double-digit tsunami forecast by the Gallup and Fox News polls.
Senate
If Gallup's 15-point national margin is accurate, it would likely also mean a Republican sweep of the Senate. To do that, Republicans would need to sweep the three states currently considered toss-ups -- Washington, Colorado and Illinois -- and overcome the small but real Democratic polling leads in either West Virginia or California. If the cumulative statewide polling is accurate and unbiased, that's a very unlikely result. If the result is closer to what Gallup finds nationally, however, a Republican Senate takeover remains a real possibility.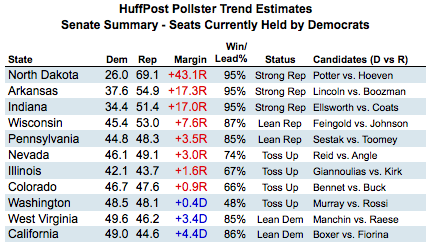 Washington is critical for Republican hopes for winning Senate control, and the final round of polls there do show a tightening of the lead held by incumbent Democrat Patty Murray.
Throughout the fall campaign, Murray has typically scored better on polls that use live interviewers than on those that call with an automated recorded voice. The final polls have been no exception. The final live interviewer surveys by the University or Washington and Marist/McClatchy give Murray slight nominal advantages (of 4 and 1 percentage points respectively), while the final automated poll from Democratic pollster Public Policy Polling (PPP) released overnight gives Rossi a two-point advantage. An internet poll conducted by YouGov/Polimetrix using a sample drawn from a panel of respondents recruited to complete surveys online gives Murray a three-point advantage.
Our trend estimate, which combines all the available public polls, shows Murray's lead down to less than half a percentage point (48.5% to 48.1%), our closest Senate margin in the nation as of this hour.
In Colorado, three new polls released over the weekend leave our estimate showing the race still very close. Marist/McClatchy gives Republican Ken Buck a four point lead (49% to 45%) over Democratic Senator Michael Bennet, the final PPP survey gives Buck a one-point margin (49% to 48%) and the YouGov/Polimetrix internet survey flips the margin in Bennet's favor (49% to 48%). Our trend estimate as of hour gives Buck a one-point advantage (47.6% to 46.7), but the margin falls well within toss-up range.
The weekend produced just two new surveys in Illinois, a PPP poll showing Republican Mark Kirk leading Democrat Alexi Giannoulias by four points (46% to 42%), and a YouGov/Polimetrix online poll showing Giannoulias up by three (47% to 44%). Of the eight public polls released in Illinois since mid-October, all have given Kirk nominal leads except the YouGov survey and an internal poll conducted by the Giannoulias campaign. Our trend estimate for Illinois now gives Kirk a 1.4 point lead (43.7% to 42.1%) although with a probability of winning (72%) that still falls short of "lean Republican" status.
Democrats could breath much easier if Harry Reid rebounds against Sharon Angle in Nevada. Our current trend estimate gives Angle lead just big enough (49.1% to 46.1%) -- a "toss-up" for the moment, but barely -- while the final PPP survey released this morning shows Angle leading by just a single percentage point (47% to 46%).
A Republican sweep of the three toss-up states would produce a 50-50 tie in the Senate that would be broken by Vice-President Biden. To win absolute control, Republicans still need to pick up an additional tenth seat. The closest contests are West Virginia and California and the final round of polls show both leaning Democratic.
In West Virginia, the final PPP poll gives Democrat Joe Manchin a five-point advantage over Republican John Raese (51% to 46%), just a point better than the final Rasmussen poll released this morning (50% to 46%). Our current trend estimate gives Manchin an advantage of just over three points (49.6% to 46.2%).
California is another potential target for the 51st Republican seat, but the final round of polls, including three new surveys released over the weekend, all show Democrat Barbara Boxer leading Republican challenger Carly Fiornia by margins of three to eight percentage points. Our trend estimate now gives Boxer a four-and-a-half point lead (49.0% to 44.6%).
Polling in the Pennsylvania contest between Democrat Joe Sestak and Republican Pat Toomey has produced narrower margins in recent weeks, but Toomey still led on all nine of the surveys released in the last week. Our trend estimate gives Toomey an advantage of more than three points (44.8% to 48.3%) -- about as likely to win in Pennsylvania as Boxer is in California.
The three-way Alaska Senate race remains very much a toss-up and by far the biggest wild card, given the hard to measure write-in candidacy of incumbent Republican Lisa Murkowski, although either Murkowski or Republican nominee Joe Miller would caucus with the Republicans.
Four recent surveys have shown Murkowski with leads ranging from 4 to 16 points, but a PPP survey released early this morning shows Miller leading by seven. Our trend estimate at this hour shows a virtual tie between Murkowski and Miller (33.8% to 33.3%) with Democrat Scott McAdams running roughly five points behind (27.9%)
Governors
Republicans are currently poised to pick up a net 8 governorships tomorrow, with one state (Rhode Island) leaning to an independent and three states still in toss-up range. Those include:
Florida, where our trend estimate now gives Republican Rick Scott the narrowest of margins (44.5% to 44.1%) over Democrat Alex Sink, and the last ten polls by nine different pollsters have split, with Scott getting the nominal edge six times and Sink four.
Oregon, where our trend estimate gives Democrat John Kitzhaber a one-point edge (46.7% to 45.6%) over Republican Chris Dudley, but the most recent poll from SurveyUSA (which sampled and called both landline and cell phones) showed Kitzhaber leading by seven (48% to 41%)
Ohio, where our trend estimate now shows the margin for Republican John Kasich over Democratic Governor Ted Strickland down to just two points (47.7% to 45.8%), after the final round of polls show a much closer race than those fielded just a few weeks ago.
The following table shows our current trend estimates for the most competitive contests for Governor. We will be updating all of our results throughout the day -- stay tuned.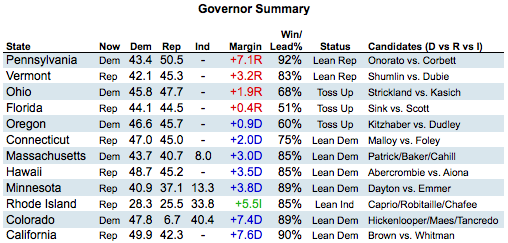 Note: Our newly-updated trend estimate model assesses the trends across all races, so whenever we add a new poll in any state, the probabilities and trend estimates for all races will change very slightly (usually no more than a tenth of a percent or two for the trend estimates).
Follow Mark Blumenthal and HuffPost Pollster on Twitter