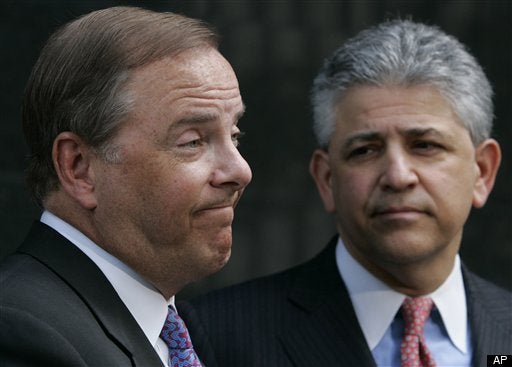 HOUSTON (AP, By Ramit Plushnick) -- The ex-CEO of disgraced energy giant Enron asked a federal appeals court on Monday to grant him a new trial based on a Supreme Court ruling his attorney said puts his conviction for conspiracy and securities fraud in question.
Skilling's attorney Daniel Petrocelli presented his argument to a three-judge panel scheduled by the New Orleans-based 5th U.S. Circuit Court of appeals. The U.S. Supreme Court's ruling in June that an anti-fraud law was improperly used to help convict Skilling in 2006 for his role in Enron's calamitous downfall demanded a new trial, Petrocelli said. The jury received bad instructions, he said, that could have tainted their decision-making process.
The prosecution, however, countered that the instructions given to the jury were "harmless" because the evidence against Skilling was overwhelming. The 19 convictions for conspiracy, securities fraud, insider trading and lying to auditors should stand, prosecutor Doug Wilson said.
The arguments focused around a short addendum to the federal mail and wire fraud statue that makes it illegal to scheme to deprive investors of "the intangible right to honest services." The Supreme Court ruled in June that prosecutors can use this only in cases where evidence shows the defendant accepted bribes or kickbacks.
Skilling's misconduct entailed no exchange of money, and so, Petrocelli argues that under the new interpretation of the law Skilling did not conspire to commit honest-services fraud.
"This error permeated the case against Mr. Skilling," Petrocelli told the court. "We think it was deeply harmful."
Wilson said the honest services argument was barely mentioned in both the defense and the prosecutions closing arguments. The clause, he said, played a "minor, incidental role" in the jury's decision because evidence that Skilling "deceived the investing public" and "manipulated Enron's earnings" was so overwhelming the jury could have only convicted him.
Skilling was sentenced to more than 24 years at a minimum security prison outside Denver.
His wife and other members of his family attended Monday's court hearing, but they declined to speak to the media.