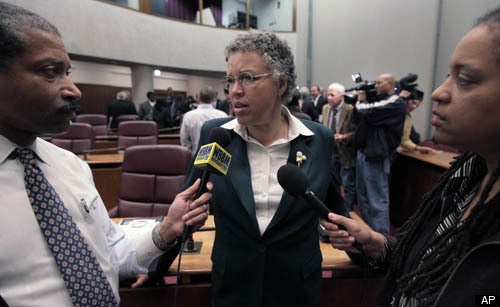 Chicago alderman Toni Preckwinkle has officially become the first woman to be elected Cook County Board President.
With 80 percent of Cook County reporting, Democrat Preckwinkle won 69 percent of the vote. Republican Roger Keats received 27 percent of the vote and the Green Party's Tom Tresser received 4 percent of the vote.
Preckwinkle will replace the very unpopular Todd Stroger, who she defeated in the primary. Stroger took office in 2006. His father, John Stroger, who had served as Board President for the twelve years prior, suffered a stroke and resigned from office. The Cook County Democratic Committee chose the younger Stroger to replace him on the ballot in the '06 elections, and he won election in November of that year.
In his tenure, Stroger passed a widely unpopular sales tax hike for Cook County, and vetoed its repeal by the board. That tax increase, coupled with some hiring scandals during his tenure, made him increasingly unpopular.
Preckwinkle is an alderman from Chicago's 4th Ward, representing an area of the South Side that includes Hyde Park. She campaigned as a reformer who will attack corruption and, of course, repeal the Stroger sales tax, but she told NBC Chicago Tuesday night that the repeal will take time.
"I've promised from the very beginning that one of my first tasks would be to look at how we could eliminate the rest of that sales tax increase," she said. "We'll do that walking in the door. Although I'm not committing to do that the first year because we're already in a big hole and I'm not going to dig it deeper."
As this Chicago Tribune editorial cartoon sums up--she has a big mess to clean up come December.
Savoring the history-making win will be short-lived as Preckwinkle must get to work on a proposed budget that closes an estimated $300 million budget hole to keep the local courts and jail open along with the health and hospital system serving the poor and uninsured. The deadline for the county board to pass the budget is Feb. 28th.