by Stacy Straczynski, associate editor of Contract Magazine
I'm a huge, and let me repeat, HUGE Facebook junkie. And why shouldn't I be? Since first creating my profile page in 2004, the social media tool has done more than simply given me an efficient outlet to stay in touch with (or, at times you could infer the term "harmlessly stalk") my multitude of friends on a daily basis. More importantly, it has given me the power to distinguish myself from the masses and define my own public identity, one that is constantly evolving with every picture, "like it", and note post. An identity that is made fluid and dynamic as I share every waking thought, emotion, and preference to the world with the click of a "share" button.
Now while this trend of compulsive public disclosure may seem quite the norm to me, the others within my age range and below (a recent Nielsen report details the emergence of a new demographic, Generation C, which encompasses those individuals in their teens and 20-somethings who thrive on social media and constant connectivity), and the ever increasing numbers of new users who sign up with the tool each day, social media mania is only just starting to gain traction in the architecture and design industry. But some design sites and firms have managed to stand out and push the industry forward on this front.
My favorite design-related social networking sites and blogs: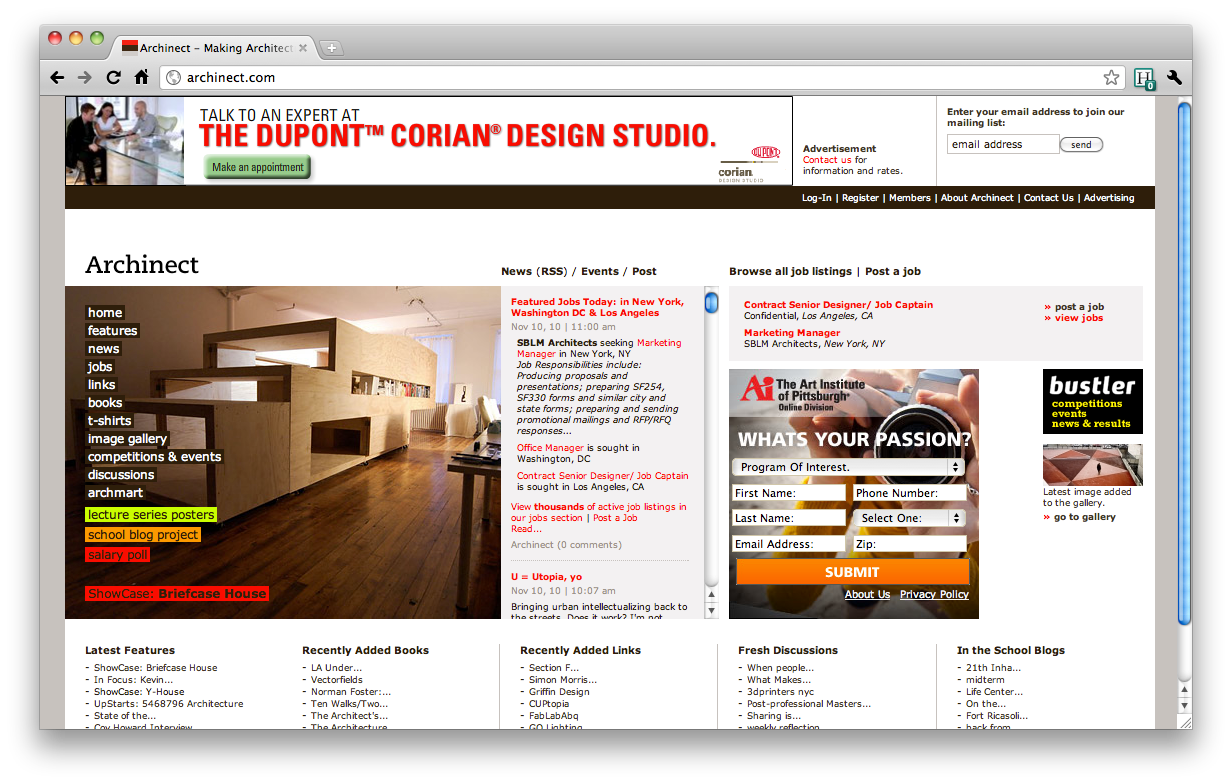 • OpenBuilding. Topping my list is a recently launched, user-generated Web site that presents the A&D community with a publically editable database of architecture projects and information--just think Wikipedia for A&D. And what's even better is that the site offers apps for mobile devices so you can search and contribute on the go.
• Archinet. As one of the more progressive online design outlets that's aimed at connecting designers around the world on a variety of trends and issues, this blog is never scarce for a good read. Also, check out the highlighted links to student blogs for some young and fresh perspectives.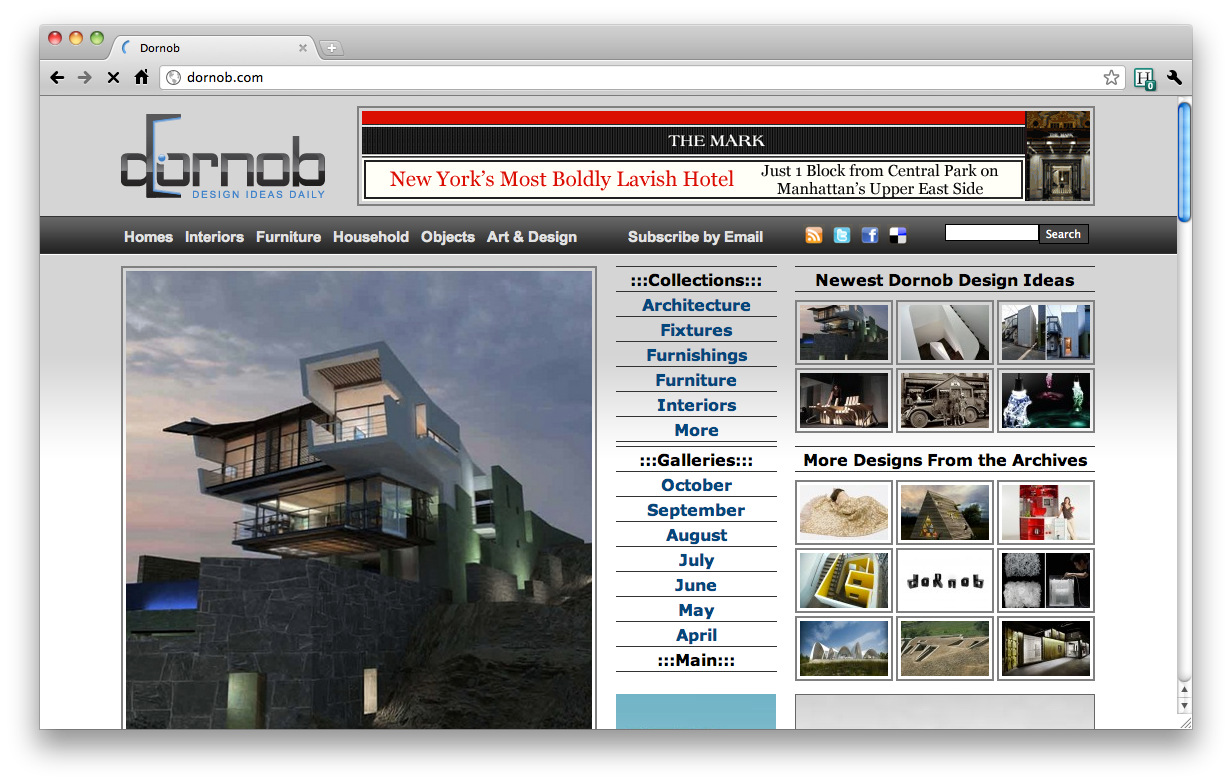 • Dornob.com. Look to this blog for product inspiration. The interactive design archive features some of the sexiest and limit-pushing designs for contemporary projects. I always find at least one design to fall in love with here every time I visit.
• Materialicious. Make browsing for interesting product designs and materials easy, via a user-generated, visually-focused Web-site that presents the best of design across the Web. Image tiles direct to short blurbs on products and projects, with links to exterior sites for more detailed information.
Additionally, several firms are taking the lead with their online Websites. A few of my favorites are: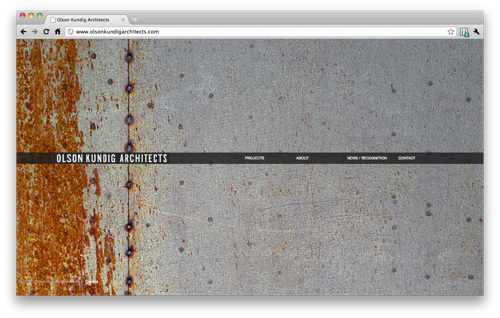 • Olson Kundig Architecture. In terms of style, the clean layout with easy-to-use navigation makes this Seattle-based firm stand out. I can find the information and projects I need quickly here.
• Diller Scrofidio + Renfro. While I usually loathe flash-based Web sites, due to their complexity and tendency for "content overcrowding," the 3D, scrolling functionality of this New York-based firm's site makes surfing through projects a truly engaging visual experience. (I lost a good 15 minutes just playing with the homepage feature upon entering.)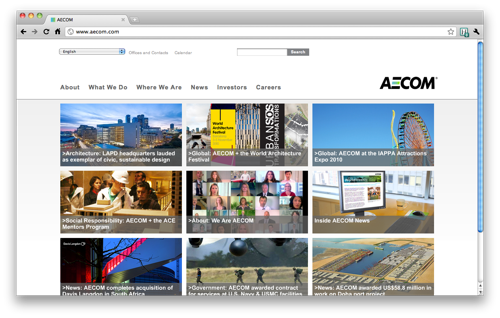 • AECOM. Of course I must also call attention to what experts have labeled as the crème de le crème of architecture sites. The global company, which provides professional technical and management support services across a range of markets (including architecture), was the winner of the annual 2010 Web Marketing Association Web Awards and captured the award for Best Architecture Web site.
After recently leading one recent industry panel, "The Impact of the Internet and Social Media in Today's Contract Furniture Market ," and attending another, "IDNY: The Social Web and Publishing in Architecture + Design," both held in New York City this fall, I noticed that the Q&A sessions were centered around one hot button question: With so many new social media channels, how can designers effectively manage all of this information? The length and fervor of that discussion, to me, hit the nail on the head--A&D's "socialmediaphobia" is more due to a lack of understanding how to manage it effectively, i.e. "How can I make most of my valuable time?" (And we all know that extra time in the A&D profession is about as rare as Lindsey Lohan actually finishing a round of rehab, sometimes making you wonder why you wanted to become an architect, as this humorous YouTube video portrays. )
Now, I don't consider myself an expert in social media (nor do I think that such a title truly exists, due to the inherent rapid evolution, and subsequent novelty, of these tools), however I feel that I can share with the A&D community some of the insights I've learned from being an online journalist for the last several years on how to start using social media tools more efficiently:
• Ideal expectations. Immediately throw out the idea that you now have an "obligation" to be on every social media site 24-7. You will never have enough hours in a day to read all of the new content that posts/publishes. Knowing this relieves a large majority of the stress. Pick the top two or three social media sites that work for you and maintain an active presence with those. (For example, I namely use the basics MySpace, Facebook, and LinkedIn.)
• Get it together. You can streamline content from all channels by creating an account with a social aggregator, such as Hootsuite, Friendfeed, or Flock, to consolidate all of your sites and let you make updates simultaneously. Additionally, sites such as del.icio.us and Furl allow users to bookmark their favorite Web content and subsequently share those items in a variety of social media channels.
• Friends in all places. Never stop building your friend's list, as these are the contacts that will be sharing relevant content with you. Trust their judgment and let them help you filter through the digital clutter. Take the opportunity to learn from each other. Why not share a request for tips on your pages and see what responses you get back?
• Put the "I" in Team. (I saved the most important for last.) Ironically, I have found that the most effective way to reduce your total time spent browsing social media tools is to maintain an active profile. The more you are engaged in social media, the more others will think of you when they are online and begin to directly send you relative content. Aim to make regular updates--whether it's of your status, adding a thoughtful comment to a friend's post, or sharing a link--once a day, but no less than once per week minimum.
Stacy Straczynski is a professional journalist and freelance writer who has covered a variety of markets, including design, marketing, travel, and entertainment. As the current associate editor for Contract magazine, a commercial architecture and interior design publication, Stacy manages a majority of the brand's online content and social media channels, as well as contributes to the print publication.