Rumor has it Google may be negotiating a deal to acquire online deal site Groupon. But while the Internet waits for confirmation of a Google-Groupon agreement, Groupon is rolling out two new social features, Groupon Stores and the Deal Feed, both of which will streamline the service for users and merchants.
Groupon Stores is a platform where business owners can tailor-make their own deals, rather than waiting to be featured by Groupon. Merchants can also use the Store to manage their presence on Groupon. TechCrunch, lauding the feature, writes, "Groupon Stores is pretty remarkable when you realize that merchants can now offer customizable Groupon deals whenever they want, with no middleman and just a 10% commission on all sales, as opposed to the 50% the company usually takes off."
Users can view a personalized stream of daily deals via the Deal Feed, which, according to the Groupon Blog, "includes your featured daily deal, deals posted by merchants you follow, and deals posted by merchants that we recommend based on what we know about you." Groupon will select deals from the Store to feature on the Feed.
"[O]ur biggest problem," writes the Groupon Blog, "is that demand is so high, merchants often wait months to be featured. And while we once only had a few thousand customers per city, now we have hundreds of thousands (Chicago just added its millionth subscriber!) -- making it increasingly difficult to find one deal that satisfies everyone."
And Groupon continues to expand. FastCompany reports that Groupon has significantly enlarged its Asian market by acquiring discount sites uBuyiBuy, Beeconomic and Atlastpost. "Groupon also launched new localized services in Hong Kong, Singapore, Philippines, and Taiwan today," FastCompany writes.
The Groupon Store and Daily Feed products resemble location-based deals and rewards services from Facebook, Yelp and Foursquare, among others.
Check out Groupon's screengrabs of its new social products, and tell us in the comments whether you will take advantage of these new offerings.

GROUPON STORES: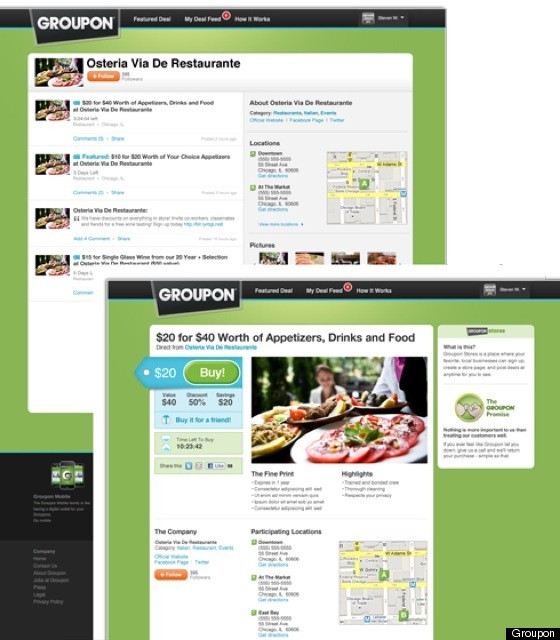 DEAL FEED: