Today we're featuring Carl Toney, an 83-year-old retiree and WWII veteran. He's as busy, 19 years into retirement, as he was when he was a field engineer for IBM -- all due to his volunteer work for his neighbors and community. According to his son, who nominated him as a "Greatest Person," his community service is "not on a grand scale and he does it quietly and with humility. He does all of this at cost - no charge for his labor. If a neighbor needs a fence mended, a garage door opener fixed, an improvement of their landscaping, a new coat of paint on their home, they know who to reach out to - my father." He once told his son, "I believe that we should help our fellow citizen by using one's skills to make a better way of life. We can't count on a government to solve all of our problems. If we do, we are like the bird that sold its feathers for food." We chatted with Carl about what motivates him to give back.
Huffington Post: Tell us briefly about yourself. Where are you from, and what type of work did you do before retirement?
Carl Toney: I grew up in Monticello, Georgia. I served during WWII with the US Navy from 1943 to 1945. Much of my duty was in the South Atlantic doing anti-submarine patrol aboard the aircraft carrier USS Solomons. We sunk a German submarine and perhaps more that never surfaced again. I served in the Merchant Marines from 1946 to 1949 transporting Marshall Aid cargo to Europe. From 1952 to 1991, I was a computer engineer with IBM. I was able to complete my education supported by the GI Bill.
HP: How did you first start giving neighbors and others in your community a hand with small projects?
CT: It seems as if I was willing to help for as long as I can remember. During my early IBM days, my children were in the Boy Scouts and I was a volunteer dad. I also volunteered to help organize the local town's people to rename our town Carrolton, Maryland - at that time, two towns with the same name caused great confusion! The task of changing the name to New Carrolton, Maryland involved many petitions and much patience, but we did get it accomplished. New Carrolton is now an Amtrak stop just before entering DC!
After retiring from IBM in 1991, I became very active in the townhome community where I lived. All of the residents were senior/retired people and many called upon me for assistance in handyman projects. My neighbors often asked me to fix leaky faucets, broken garage door openers, clogged sinks, sticking doors and unwanted rodents. All of my handyman skills were self-taught and I'm still learning to this day.
I volunteered for our community health network and drove many people to doctor's appointments, as well as often spending a morning or afternoon in a hospital while a neighbor attended to various medical appointments. I have also house sat with an Alzheimer's patient so that her husband could have a respite.
At 71, I was certified by the IRS through an AARP Tax Aid program so that I could aid low-income people in preparing their taxes. I did this for 8 years.
I am a very active volunteer at East Cobb Park, a beautiful area in our local community that was created by friends and neighbors wanting green space. I gave financial assistance to the group and over a few years we raised a million dollars which was to be matched by the county. Today it's a thriving park used by families, young and old. The park is recognized throughout the county as a model for community engagement. I currently serve on the site planning committee and spend many afternoons there planning new facilities and uses for the park.
This last year, I sought permission in my community to use a ¾ acre parcel of land to create a mini-park. I raised the money within the community to finance the project. To date, we have built a split rail fence, landscaped the area with many beautiful plants and climbing roses on the fence and purchased outdoor all-weather furniture to create a wonderful and peaceful place for the neighbors to gather. We have enjoyed two very successful parties there in the last few months.
In January of this year, we collected over 700 pairs of shoes to be sent to Haiti. We were told that there was a jet available to deliver them, but the airports/runways were closed down and thus the jet couldn't get there. Foot Solutions has a HQ facility here in Atlanta and they very graciously volunteered to get them to Haiti just as soon as they could get a container down there. The picture below is of me delivering to the Foot Solutions warehouse.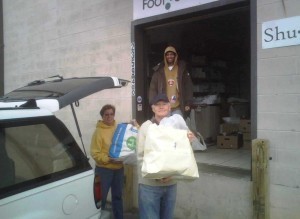 HP: How many of these neighborly good deeds have you done? Why do you do them? What do you get out of it? Have others gotten involved?
CT: Too many to count, but I love doing this and get great self satisfaction knowing that I am able to contribute. Not many others participate, but they seem to have other activities they enjoy.
HP: What responsibilities do we have to our neighbors and to our community?
CT: I think that everyone should be responsible to assist their neighbors and community to the best of their ability. It is a natural way to bring people together - more important now than ever before with people increasingly connecting in a digital world and less face-to-face.
HP: Who are your heroes? Who inspires you?
CT: My parents are my heroes because they always made the best of what little they had.
My father inspired me. He was always reaching out to the less fortunate. My mother raised 10 children in a very trying environment and always stressed the value of education, a strong work ethic, high morals and kindness to everyone.
I am sharing my story in hope that it will inspire other seniors to volunteer in their communities.

For more, explore our 'Greatest Person of the Day' archive and subscribe to receive daily email updates.
For more, visit our new Third World America section.