The New York Times caught up with Givenchy's transsexual model Lea T. for its Thursday Styles article "Bold Crossings of the Gender Line." Lea told the Times:
"When you are a transsexual, you look for your future, and you can't see it," Ms. T. said. "I thought this would be a nice message for another tranny: 'Look, we can be the same as other girls and boys.' It's small, but it makes you feel like you have a little chance. Maybe a transsexual will open a magazine and think: 'That's cool. We can be whatever we want.' That's why I did the Givenchy campaign."
Since appearing in the campaign in May, Lea's modeling agency, Women, has gotten over 400 requests for interviews.
The Times also cleared up what the "T" in Lea T. stands for: Tisci, as in Givenchy's Creative Director Riccardo Tisci.
Lea said she's presently in Milan waiting for her sexual reassignment surgery. She explained, "I will always feel uncomfortable, but it will make my life a little easier, and I will look in the mirror and see something I like more."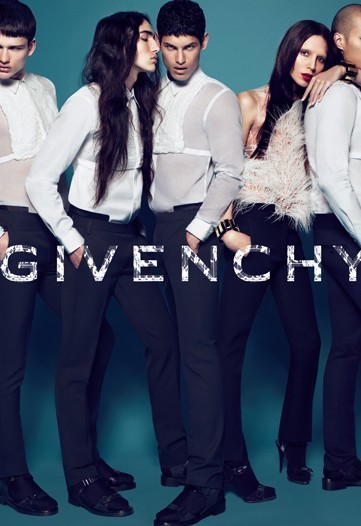 Lea's recent cover: