For CNN's Alina Cho, the idea for her celebrity charity series, "Big Stars, Big Giving," came not from a focus group or a newsroom committee, but from her friends, who started asking her to talk about something nice for the holidays last year.
"At about the same time that the world was falling apart economically, a lot of friends came up to me and said, 'I know that the world is falling apart but you can't tell me that there's not some good news out there,'" she told the Huffington Post in an interview.
So Cho started looking for news that was both positive and, she admits, "sexy and teasable for TV." She hit upon a celebrity series that would focus on, as the title of the series says, the charitable and humanitarian projects that various stars are involved in. She was able to interview Richard Branson, Elton John, Ben Stiller and Martha Stewart for "American Morning," where she is a national correspondent, last year, and the series was a hit. When Cho went in for her performance review this year, Bart Feder, CNN's senior vice president for programming, told her he'd like to see a special program alongside the 2010 incarnation of the series. This year's interviews run all this week on "American Morning," and the special, also titled "Big Stars, Big Giving," will run on Christmas Eve.
This year, Cho spoke to Edward Norton, Halle Berry, Julianne Moore, Nicole Kidman and, last but not least, Justin Bieber about the charitable projects they focused on. It wasn't always easy to wrangle the stars--Bieber's people kept saying no over and over again before they finally agreed--but Cho said that, when they sat down, the celebrities were "thrilled to talk about something that's not, 'who's your boyfriend, did you cut your hair, who are you dating, tell us about your kids.'"
She found a common thread in each star's choice of project. There was always some kind of family connection, a link to their childhood or upbringing. For some, such as Nicole Kidman, it was being raised as a feminist by a mother who pushed her to do something of consequence in the world. Even winning an Oscar, the actress joked, wasn't enough for her. But Kidman's work with UNIFEM, the UN's organization focusing on women's and gender equity issues, did impress her.
Watch Cho's interview with Kidman:
For Halle Berry--the star Cho said she made the most personal connection with--her work against domestic violence was rooted in the abuse she saw her mother undergo at the hands of her father. Berry's mother was beaten and thrown down the stairs, Cho said. "It obviously affected her and the choices she's made," she continued. In her interview, Berry talks about her support of the Jenesse Center, a domestic violence victims center in Los Angeles that she has helped renovate and fund.
Bieber was a late addition to the series. Cho said she was initially skeptical about his charitable bona fides, since he is just 16. But, she said, "he told me that he doesn't think charity is just for older people," which impressed her. (Bieber is involved with the Make-a-Wish foundation and donates a proceed of every concert ticket to charity.)
Oh, and Cho thought he was "cute as a button," too.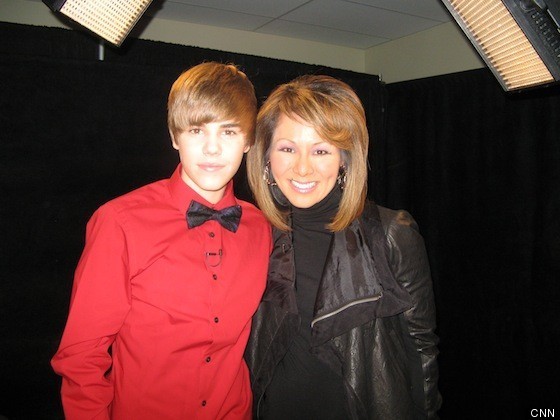 Asked if she is frustrated that it takes celebrity guests to get people to watch a series about charity, Cho said she was realistic about the draw that the famous have--and that her interviews went beyond the gossipy norm. "We were careful about choosing people who walk the walk as well as talk the talk."
The series continues all this week on "American Morning," and the special, which will expand on the interviews Cho did, will air on Dec. 24, with repeats airing several times over the Christmas weekend.