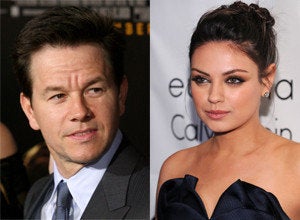 Meg Griffin in real life? MTV is reporting that 'Black Swan' star -- and long time 'Family Guy' voice -- Mila Kunis is in talks to join Mark Wahlberg in Seth MacFarlane's live action comedy, 'Ted.'
The film, about a cute teddy bear come to life that grows and, now a grungy drug addict, tortures Wahlberg in his adulthood.
"It's a script that I read that Seth is directing. I read it on and off for two years through different rewrites. It's a really great script," she said.
"If time permits and scheduling works out I'd love to do it. I don't even know if there's a set date. I know Wahlberg and I did a table read and he was great. It's a really, really funny script. Its all just a matter of timing."
Kunis would play Wahlberg's girlfriend, who tries to convince him to push the bear out of his home and life.
Elsewhere on the big screen, Kunis will next appear in the romantic comedy 'Friends With Benefits,' filmed this summer with Justin Timberlake.