WASHINGTON -- A band of frigid weather snaked up the East Coast on Sunday, causing blizzard-like conditions and wreaking havoc on travelers from the Carolinas to Maine.
Airlines grounded hundreds of flights Sunday along the Northeast corridor in anticipation of the storm. New York City-area airports alone canceled close to 1,000 flights. Many airports and rail lines remained closed on Monday, leaving thousands of holiday travelers stranded.
We'll be following the latest developments here.
12/27/2010 5:48 PM EST
Snow Photos
The best photos from 'snowmageddon.'
12/27/2010 5:42 PM EST
Angry New Yorkers
From the AP:
NEW YORK — A windy winter storm that dumped nearly 2 feet of snow on New York City also whipped up criticism about how the city responded to it.
Some New Yorkers in the outer boroughs complained that the city took too long to plow their neighborhoods, ignoring them in favor of wealthier Manhattan areas.
Mayor Michael Bloomberg said the fast pace of snowfall – 2 to 3 inches per hour at some periods overnight – and the amount of people who abandoned cars in the road delayed the progress of the plows.
"Those cars have to be towed before plowing can resume, which really slows things up," he said.
Officials said crews were concentrating on main roadways and warned that side streets might not be cleared until Tuesday.
For the record, the city deployed 1,600 plows for a snowstorm that delivered 20.9 inches in February, as measured in Central Park. For this latest winter blast – which dropped 20 inches – 1,700 plows, plus 365 salt spreaders that were converted into plows, were working on the streets.
Fire officials said the unplowed roads were slowing their responses to emergencies, and snowbound residents in Brooklyn and Queens said many streets, including main thoroughfares, were impossible to traverse, making it difficult to get to work.
More here.
12/27/2010 2:31 PM EST
Hockey Team Gets Stuck, And Other Horror Stories
After beating the New Jersey Devils 4-1 in Newark, N.J., the Toronto Maple Leafs boarded their bus for the 20-minute ride to their hotel. They arrived five hours later.
They and other travelers tell their travel horror stories here.
12/27/2010 1:27 PM EST
Airport Update
The FAA reports that New York's John F. Kennedy Airport and Newark International Airport are now expected to reopen at 6 pm. No word yet on LaGuardia.
You can check the latest airport status here.
12/27/2010 12:06 PM EST
The Scene In Philadelphia
Snow removal crews try to clear the runways at Philadelphia International Airport: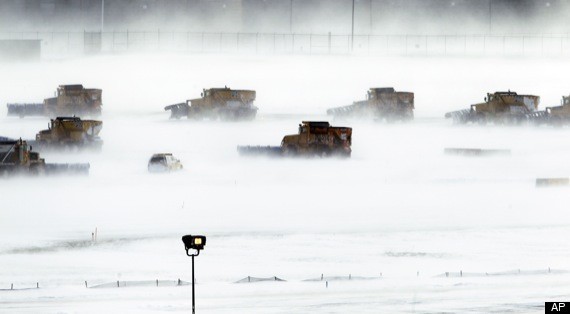 12/27/2010 11:21 AM EST
Testy Governor
Ed Rendell is governor of Pennsylvania for only a few more weeks, but he is going out with a bang. The Keystone State Democrat ripped the NFL for postponing Sunday night's primetime game between the Philadelphia Eagles and Minnesota Vikings, and went on to clash with a local weatherman over the severity of the blizzard. Listen to the bizarre interview here.
12/27/2010 10:47 AM EST
Brooklyn Logjam
Driving does not look pleasant: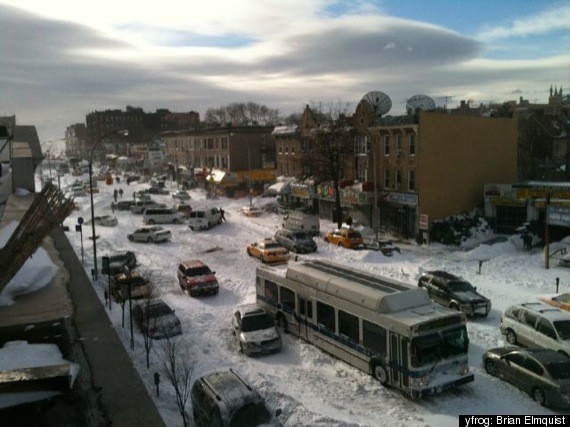 12/27/2010 10:07 AM EST
Washington's No-Pocalypse
How did Washington, DC escape the blizzard that blanketed the rest of the East Coast? This map from the NOAA shows just how close it came: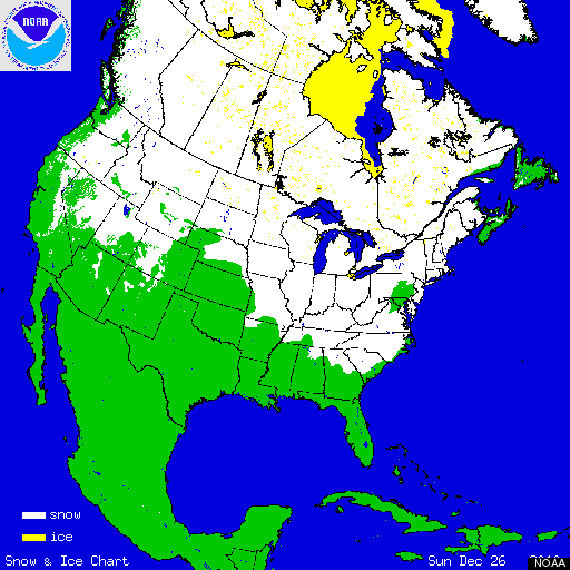 (h/t Capital Weather Gang)