As 2010 draws to a close, we asked some of Chicago's experts in food, style and music to share their favorite places, people and things of 2010. Monday, HuffPost blogger and 312 Dining Diva Audarshia Townsend rounded up her picks for the best restaurants and bars of 2010. Yesterday, fashion blogger Tavi Gevinson and hair stylist Bathsheba Nemerovski shared their shopping and fashion choices. This week, look for the the best Chicago theater of the year chosen by Hannah Fenlon and Elana Boulos of Two Birds Casting and the top local news stories of the year from the HuffPost Chicago staff.
Pete Zimmerman, a CHIRP Radio DJ and producer for Chicago radio legend Steve Dahl, was kind enough to share his favorite local albums of the year with us. Pete knows his stuff--and if you want him to introduce you to even more great music, tune in to CHIRP Radio Sundays at 6 a.m.
TOP TEN LOCAL ALBUMS OF 2010 (That Aren't Kanye West)

10. Canasta / The Fakeout, The Tease and the Breather / RWIM Chicago
The 2nd full length album from Canasta is loaded with intricate yet accessible orchestral pop music.
Download: "Mexico City" (LISTEN here.)
9.Judson Claiborne / Time and Temperature / La Societe Expeditionnaire
Christopher Salveter, formerly of Low Skies, makes beautiful and haunting country-tinged rock with this new project.
Download: "The Freeze Up"
8. Very Truly Yours / Things You Used to Say / Skywriting
Were you a fan of Sarah Records? If so, you should check out the debut LP from Very Truly Yours when you are in the mood to hear perfect twee pop songs.
Download: "Puddles"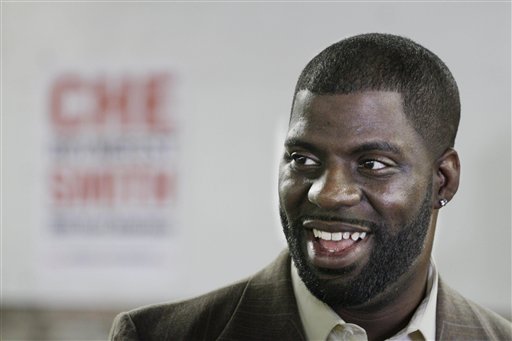 Rhymefest (Photo: AP)
7. Rhymefest / El Che / dN/Be Entertainment
The best album by any candidate running for Chicago Alderman.
Download: "How High" (LISTEN here.)
6. David Singer & The Sweet Science / Arrows / The Sweet Science Records
Mr. Singer has been putting out wonderful pop records for some time, but Arrows is his most accomplished work to date.
Download: "Favorite Son"
5. In Tall Buildings / In Tall Buildings / Whistler
A promising debut record filled with gorgeous indie-pop.
Download: "The Way to a Monster's Lair" (LISTEN here.)
4. 1900s / Return of the Century / Parasol
The full-length follow up to 2007's Cold and Kind is well worth the wait. Lovely vocals and rich harmonies abound.
Download: "Lay a Ghost" (LISTEN here.)
3. White Mystery / White Mystery / Self-Released
Fun, fast, and aggressive garage rock from this brother and sister duo.
Download: "Take a Walk" (LISTEN here.)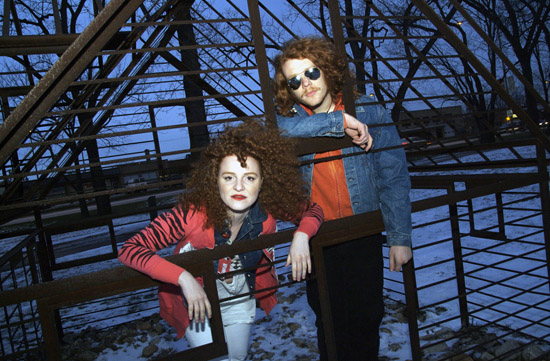 White Mystery
2. Gold Motel / Summer House / Good as Gold Records
Winter in Chicago is cold, long, and often miserable, but listening to this record is the perfect antidote to combat the winter blues. It's summery pop music with hooks galore.
Download: "Don't Send the Searchlights"
1. Disappears / Lux / Kranky
Featuring members of much beloved Chicago bands 90 Day Men, The Ponys, and Boas, this much-anticipated record delivers on the lofty expectations. Reverb infused guitar rock that is nearly impossible not to love. And the good news is that a new record is expected in early 2011.
Download: "Marigold"

HONORABLE MENTIONS
Mavis Staples / You Are Not Alone / Anti
cap D / Polymath / All Natural Inc.
Cave / Pure Moods EP / Drag City
J.C. Brooks & The Uptown Sound / To Love Someone that Don't Love You 7" / Addenda
Dreamend / So I Ate Myself, Bite by Bite / Graveface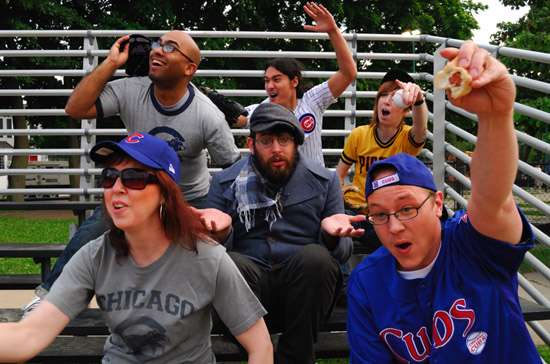 The Scotland Yard Gospel Choir (Photo: Casey Black)

COMEBACK OF THE YEAR
The Scotland Yard Gospel Choir

After spending most of the last year inside of various hospitals as they recovered from injuries suffered in a horrible car accident, the band finally made its return to the stage in support of last year's And The Horse They Rode In On and it was amazing to see the band having fun and playing together once again.