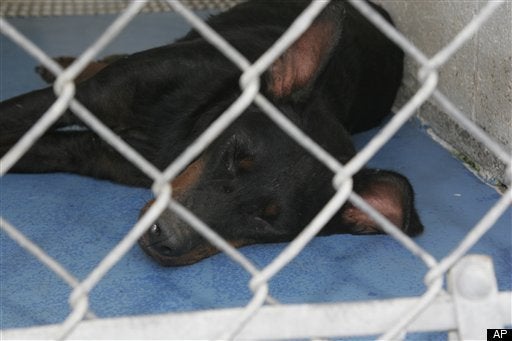 Despite an amazing recovery for many, and a second chance at life after they were pitted against each other and tortured as a part of Vick's dog-fighting circuit, the "Vicktory dogs" have gone relatively unnoticed by not only the President, but the media. Vick's desire to adopt a new dog, has grabbed more headlines than the ones he left behind.
Only 47 of the 51 dogs confiscated following Vick's arrest were deemed adoptable, and of those 22 were sent to Best Friends. 16 still remain at the Sanctuary, according to the Best Friends Animal Society's blog. Before any dog may be adopted, it must first receive a Canine Good Citizen certificate, a feat that's not easy for many dogs that have been trained to be aggressive.
Best Friends Animal Society, who came to care for many of the dogs, feels the President's call to Vick should have come along with a call to the dogs, whose progress is mixed.
Best Friend's Co-Founder Francis Battista simulated how he might respond to a call from the President on the shelter's blog:
"To be quite honest, sir, it's kind of a mixed bag as far as how the dogs are doing. After all, these critters were right there when Michael Vick and his friends were body slamming some of their doggie buddies to death and electrocuting, drowning and hanging others. Unlike Mr. Lurie and the NFL, Bad Newz Kennels wasn't into second chances. What's that, sir? Yes, he's having a great year ... yeah, a terrific arm."

"So, as I was saying, it's a mixed bag on the dogs, though some are doing very well, all things considered. Handsome Dan, Cherry, Mel, Oliver and Halle have all been adopted and some of these guys were pretty shut down, you know, terrified when they arrived here. Mel was mentioned in Bill Plaschke's article in the L.A. Times about Michael Vick ... yeah, he interviewed Mel's new family in Texas. Poor dog still shakes in a corner whenever a new person comes to the house, but he's in a great home and that's what counts."