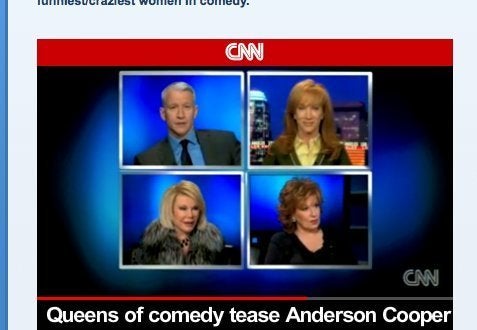 On Tuesday night, a special edition of "AC360" paid tribute to four ground-breaking "Queens of Comedy": Joan Rivers, Joy Behar, Kathy Griffin and the legendary Phyllis Diller.
The ladies joined Anderson Cooper in a free-wheeling conversation spanning topics such as Betty White, the OWN Network, Piers Morgan's Twitter wars and more.
In the highlight reel below, one topic sparks a huge response from the ladies, particularly Joan Rivers: the resurgence of Betty White.
"That old bitch!" Rivers said. " I was doing so well, and from the dead, she comes back, she's taken all my jokes... And you know how she got it?"
Behar chimed in: "Yes! She slept around, slept with everybody."
Of course there were also several jokes aimed at Cooper, specifically about appearance:
"You're so white you look like somebody poured bleach on you," Diller said.
Other topics included Piers Morgan's penchant for twitter wars and the launch of the Oprah Winfrey Network.
"The OWN launch has given me at least a half hour [of material] and that was two days ago," Griffin joked.
After a while even Cooper started doling out zingers, albeit toward his own WASP-y sounding name:
"I'm like an 18th century law firm!" he quipped.
WATCH
: