For all the talk about bipartisan State of the Union seating, Americans don't seem to care much about the matter, according to a new poll.
Powell Tate's Polipulse, with the help of social analysis company Crimson Hexagon, analyzed online opinions via blogs, forums, Twitter and Facebook from Jan. 14 to Jan. 24 and found that some 65 percent of folks had a negative reaction to the gesture. Only 19 percent said it was a good idea.
Scroll down to see the full results of the poll. In the past, Crimson Hexagon has analyzed immediate Twitter reaction to Prop 8 being overturned and opinions on last year's American Idol.
You can watch the State of the Union LIVE tonight on The Huffington Post, along with tweets and real-time fact-checking and analysis, beginning at 9 p.m. EST.
SEE THE RESULTS OF THE ANALYSIS: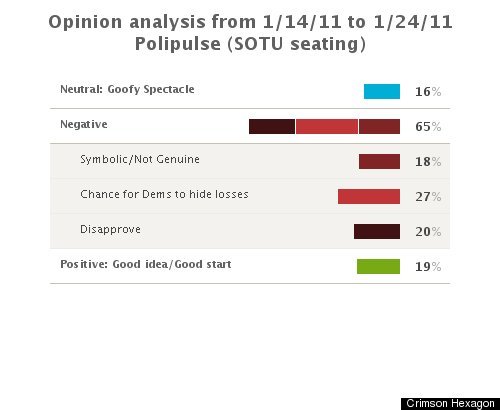 Watching the State of the Union? Meetup and watch it with other HuffPost readers and send your thoughts and photos to submissions@huffingtonpost.com.