A lighter moment in last night's State of the Union address came in the president's passage about making the government more competent and efficient, with its last major reorganization occurring more than half a century ago. Obama pointed out that a dozen different agencies deal with exports and at least five with housing.
And then the money line, met with a slow-build of laughter: "Then there's my favorite example: The Interior Department is in charge of salmon while they're in fresh water, but the Commerce Department handles them when they're in saltwater. (Laughter.) I hear it gets even more complicated once they're smoked. (Laughter and applause.)"
Best Week Ever points out that on the White House's 'Enhanced' web stream of the president's address, the salmon bit was accompanied by a handy illustration: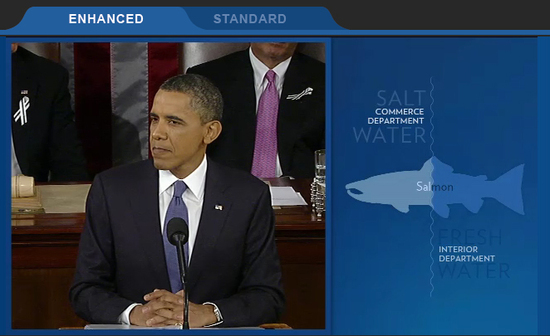 Whitehouse.gov, via Best Week Ever
Inspired by the president's line, Obama Foodorama rounds up all the instances of salmon on the menu at the Obama White House. NPR asked its readers for three-word reactions to the president's speech and ran them through a word cloud generator. The dominant word, by far? Salmon: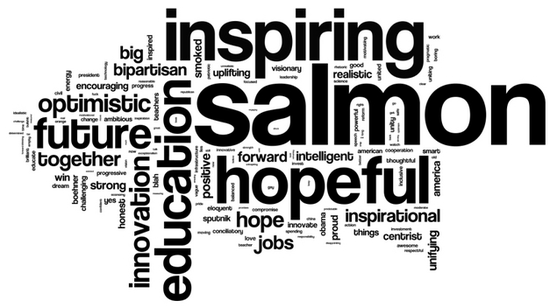 This all may be an uphill (upstream?) battle, though. The Times recently wrote on the president's effort to weed through the government's rulebook to repair useless regulations, and concluded:
[S]pecialists on both sides of the political aisle say that the president is wasting the government's time. They say there are few rules so dumb, duplicative or outdated that everyone can agree they serve no purpose. Rather, most regulations reviled by some are cherished by others, meaning that any effort to reduce regulation is a political process, not a question of housekeeping.
The full salmon joke passage from Obama's State of the Union address:
Let me take this one step further. We shouldn't just give our people a government that's more affordable. We should give them a government that's more competent and more efficient. We can't win the future with a government of the past. (Applause.)

We live and do business in the Information Age, but the last major reorganization of the government happened in the age of black-and-white TV. There are 12 different agencies that deal with exports. There are at least five different agencies that deal with housing policy. Then there's my favorite example: The Interior Department is in charge of salmon while they're in fresh water, but the Commerce Department handles them when they're in saltwater. (Laughter.) I hear it gets even more complicated once they're smoked. (Laughter and applause.)