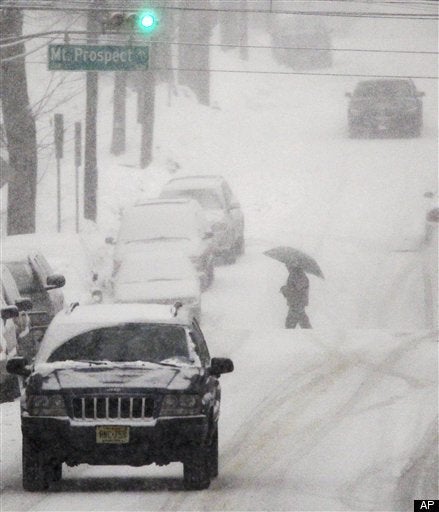 WASHINGTON (Reuters) - New U.S. claims for jobless benefits surged last week as snowstorms in some parts of the country kept workers at home, but the underlying trend pointed to an only gradual labor market improvement.
Initial claims for state unemployment benefits jumped 51,000 to a seasonally adjusted 454,000, the highest since late October, the Labor Department said on Thursday. That was the largest weekly increase since September 2005. The rise exceeded economists' expectations for a slight gain to 405,000.
A Labor Department official said four states had reported an increase in claims that was due to snow. In addition, he said, seasonal volatility also affected the data.
Still, the four-week moving average of unemployment claims -- a better measure of underlying trends, rose 15,750 to 428,750 last week, implying a gradual labor market recovery that could compel the Federal Reserve to complete its $600 billion bond buying program aimed at bolstering the economy.
"I'll buy that it can be blamed on the weather. But it does show that the recovery is growing in fits and starts," said Peter Tuz, president at Chase Investment Counsel in Charlottesville, Virginia.
A separate report from the Commerce Department showed a nearly 100 percent drop in civilian aircraft orders led to orders for long-lasting manufactured goods dropping 2.5 percent in December.
Economists had expected orders to rise 1.5 percent.
However, orders excluding transportation rose 0.5 percent and a proxy for business spending increased 1.4 percent, indicating the economic recovery was still gaining some momentum, though not sufficient to help the labor market.
U.S. stock index futures turned negative after the data, while Treasury bond prices trimmed losses. Dollar pared gains versus the yen.
Labor market recovery remains painfully slow, despite signs elsewhere of a pick-up in economic activity, keeping the unemployment rate at an elevated 9.4 percent.
Federal Reserve officials on Wednesday acknowledged the improvement in the economic picture, but said the pace of the recovery remained "insufficient to bring about a significant improvement in labor market conditions."
The number of people still receiving benefits under regular state programs after an initial week of aid increased 94,000 to 3.99 million in the week ended Jan 15. The numbers were above market expectations for a dip to 3.85 million and included the week for the household survey from which the unemployment rate is derived.
The prior week's number for the so-called continuing claims was revised up to 3.90 million from 3.86 million.
The number of people on emergency unemployment benefits rose 63,886 to 3.78 million in the week ended January 8, the latest week for which data is available.
A total of 9.4 million people were claiming unemployment benefits during that period under all programs.
(Reporting by Lucia Mutikani, Additional reporting by Mark Felsenthal in Washington and Ryan Vlastelica in New York; Editing by Andrea Ricci)