The 20.2 inches of snow that fell by midday in Chicago made the storm the city's third-largest on record, with still more coming down.
The storm was, if not unprecedented, extraordinarily rare, National Weather Service meteorologist Thomas Spriggs said.
"A storm that produces a swath of 20-inch snow is really something we'd see once every 50 years - maybe," Spriggs said.
Chicago closed its public schools for the first time in 12 years and shut down Lake Shore Drive, where hundreds of motorists were stranded for 12 hours after multiple car accidents on the iconic roadway.
On Wednesday morning, Lake Shore Drive looked like rush hour had been stopped in time. Three lanes of cars cluttered the road with snow reaching as high as the windshields. Some cars were almost completely buried. Others filled with snow that engulfed dashboards and steering wheels after doors were left ajar.
Bulldozers worked to clear the snow from around the cars before tow trucks plucked them out of snow drifts one by one. The operation likely would take hours: At least 1,500 cars awaited rescue.
Lindsey Wilson, 26, said that after sitting for hours on a stranded city bus, she joined other passengers who tried to walk off the road. She made it about 100 feet before she couldn't see anything around her, including the bus she'd just left.
Fearing she would be swallowed by mounting snowdrifts, Wilson turned back and spent the night on the bus.
"I thought if I fall over, what would happen if I got buried under a pile of snow?" she said.
Raymond Orozco, chief of staff to Mayor Richard Daley, said motorist rescue efforts had been "severely hampered" by snow drifts, high winds and white-out conditions.
Not only was driving dicey, but flying in and out of Chicago's O'Hare Airport - a major U.S. hub - won't be possible until Thursday. The decision by O'Hare-based airlines to cancel all their flights for a day and a half was certain to have ripple effects.
"Effectively shutting down America's most important aviation hub hits the system immeasurably hard," said transportation expert Joseph Schwieterman.
The city's smaller airport, Midway, also abandoned hopes of resuming flights until Thursday. Boston's Logan Airport closed briefly Wednesday as well.
More than 5,500 flights in or out of the U.S. were canceled as of 11 a.m. Wednesday, according to flight tracking service FlightAware. Most were scratched well in advance of the fast moving storm
Before the blizzard, the National Weather Service called the storm "dangerous, multifaceted and potentially life threatening" on its website, predicting white-out conditions and extremely hazardous roads.
Follow our live blog for more storm coverage throughout the day.
02/02/2011 5:06 PM EST
Stranded On Lake Shore Drive
"In 31 years with the city, I haven't experienced anything like we did at Lake Shore Drive."
Read more here.
02/02/2011 4:43 PM EST
| | |
| --- | --- |
| | @ WBBMNewsradio : BREAKING: Chicago Public Schools will be CLOSED on Thursday. #Chicago |
02/02/2011 3:44 PM EST
| | |
| --- | --- |
| | @ nbcchicago : Take a breath, #Chicago. The #blizzard watch has officially been canceled. |
02/02/2011 3:40 PM EST
More Awesome Storm Pictures!
Check out our rapidly growing slideshow. These Lake Shore Drive pictures are the coolest: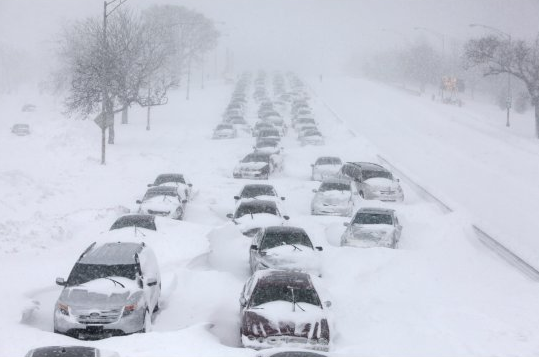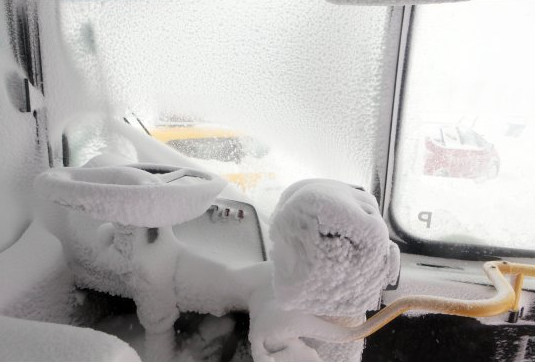 02/02/2011 2:40 PM EST
Lake Shore Drive Stopped In Time
Chicagoan Scott Dowling took this really cool video from the North Avenue Bridge over Lake Shore Drive at 6:30 a.m. on Wednesday.
02/02/2011 12:43 PM EST
Awesome Photo!
The Tribune has a sweet photo of the abandoned vehicles in Lake Shore Drive. Zombie apocalypse?
02/02/2011 12:37 PM EST
Really, Phil?
As Chicago -- and much of America -- faces down one of the most epic snowstorms in recent memory, one rodent apparently doesn't think winter's going to be all that bad.
Punxsutawney Phil, that meteorologically-inclined groundhog, told his handlers today that he expected an early spring this year.
He only makes that pick around 14 percent of the time, according to a Christian Science Monitor story; the rest of the time, he goes with another six weeks of cold.
We can't help but ask: was this really the day to pick against Mother Nature?
02/02/2011 12:15 PM EST
The Blame Game
The dozens of motorists who were stranded on Lake Shore Drive overnight have been rescued--and city officials are now saying they shouldn't have been using the Drive in the first place.
"As reported in (Tuesday's) press conference we knew that the lakefront and Lake Shore Drive would be hit especially hard," Ray Orozco, Mayor Richard Daley's chief of staff, told reporters Wednesday. "Nonetheless, it was clear that people leaving the Loop were relying on it as a major artery to get home that night."
The city didn't close the drive until the storm was raging, and some say that was a mistake.
"I feel like someone missed on the boat on not closing down Lake Shore Drive before it became a disaster," stranded motorist Craig Close, told the Tribune.
Should people have known better--or should the city have acted faster? Vote here:
Read more about the "bad LSD trip" here.
02/02/2011 12:03 PM EST
Fatality Updates
NBC Chicago News is reporting that a 60-year-old man fell into Lake Michigan and was killed last night. Rescue crews received a report of someone in the water, but were not able to enter due to the high winds, waves and zero visibility. The man's body was recovered this morning.
In Grayslake, a motorist was found dead in their vehicle. The motorist was apparently stranded and died from carbon monoxide intoxication.