Welcome to our new blog, "The Watchdog," which will keep a close eye on regulatory agencies and how their actions impact the lives of everyday Americans. Though the rules and regulations they write -- from determining how much arsenic is allowable in your drinking water to whether your favorite TV show can drop the F-bomb in primetime -- affect all of us, their deliberations and the way that lobbyists influence their decisions receives very little coverage.
To make sense of these debates, follow the implementation of health care reform and financial reform and decipher the minutia of the Federal Register, "The Watchdog" is on the case. If you have any tips or suggestions, send them to marcus@huffingtonpost.com.
02/02/2011 5:37 PM EST
When Your Pilot Has Butter Fingers...
To help prevent human errors from causing airplane accidents, the FAA is calling for more explicit requirements for "design attributes" related to "managing and avoiding" pilot errors -- such as detecting and recovering from keypad errors.
In a notice to be issued tomorrow, the FAA says:
"In hindsight of analysis of accidents, incidents or other events of interest, these deviations might include: an inappropriate action, a difference for what is expected in a procedure, a mistaken decision, a slip of the fingers in typing, an omission of some kind, and many other examples."
02/02/2011 4:03 PM EST
Many Large Employers Get Exemption From Health Care Reform Requirement
Hundreds of employers, including such corporate giants as Pepsi, have received federal waivers from a new requirement in the health-care overhaul law, reports the Wall Street Journal.
Government figures show that 733 applicants, mainly employers and union-affiliated insurers, received an exemption from a requirement that puts their plans on the hook for up to $750,000 in eligible medical bills for each covered worker this year. Most of those plans now have reimbursement limits that are a fraction of that amount.

The concern is that without such waivers, employers could raise premiums so high it would be unaffordable for workers, or they would simply drop coverage altogether.
02/02/2011 1:28 PM EST
Developer Seeks Exemption From Environmental Review For LA Stadium
The plan to build an NFL stadium in Los Angeles may "now hinge on whether state lawmakers will allow him to bypass some environmental rules so the 64,000-seat project can quickly get underway," reports the LA Times.
Developer and media executive Philip Anschutz has his top executives blitzing Sacramento, lobbying lawmakers in the state capitol for the exemption. His company, AEG, previously conducted an environmental impact study with plans for reducing the impact of traffic, noise, air pollution and other potential problems. But that project was challenged in court by local residents who claimed that the review was inadequate.
02/02/2011 12:06 PM EST
Study: Fuel Efficiency Regs For Heavy-Duty Trucks Should Be Strengthened
A new report out today from NYU's Institute for Policy Integrity - it says that the benefits of regulations governing the fuel efficiency of heavy-duty trucks outweigh the costs. But the authors state that the scope and stringency of the regulations should be increased to achieve the maximum net benefits for society.
Here's the executive summary:
The Environmental Protection Agency and the National Highway Transportation and Safety Administration have taken a crucial step in addressing our greenhouse gas emissions and oil dependency by regulating the fuel efficiency of heavy-duty trucks for the first time. That said, there is room for improvement. The agencies should increase the proposed scope and stringency of their regulations where it would maximize net benefits. The agencies should especially consider regulating the trailer components of combination tractors. The agencies should also incorporate flexibility mechanisms into their proposed rules where they would lower costs without compromising regulatory objectives. For example, the agencies should broaden the use of credits, but should be careful to avoid awarding undeserved windfalls, such as by treating electric vehicles as producing zero emissions. Though such improvements could enhance the net benefits of the regulations, the proposed program in its current form is still cost-benefit justified, as social benefits alone should likely be sufficient to outweigh technology costs. But the rules will also generate enormous private benefits, in the form of fuel savings, which suggests consumers might currently be under-investing in fuel-efficient technologies. Informational issues and the positional goods theory help explains that seemingly irrational under-investment, and those explanations suggest additional government actions, in the form of labels and demonstration projects, might be beneficial as compliments to these regulations.
02/02/2011 10:45 AM EST
The Wake-Up Call: Auto Safety In The Breakdown Lane
-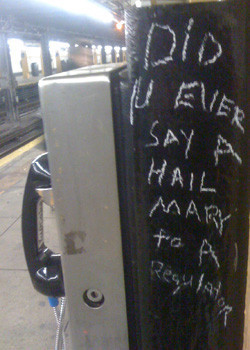 This morning, you can watch live the SEC's open meeting on registration and regulation of security-based swap execution facilities, a crucial provision of Dodd-Frank intended to address some of the derivatives activity that led to the financial crisis.
- The EPA is moving forward for the first time to develop a regulation for percholate in drinking water. The step reverses a decision by the Bush administration and comes in the wake of scientific research indicating "that it may impact the normal function of the thyroid, which produces important developmental hormones."
- Auto safety in the breakdown lane: "America's once-vigorous commitment to stopping death and injury on our roads -- one of the nation's most severe public health problems -- has become dangerously weak. With the failure of auto safety legislation in the last Congress, it appears that the public and its policymakers may no longer be interested in supporting tough measures to substantially reduce bloodshed on the highways."
- In the above photo, that's graffiti at my subway stop in Brooklyn (not sure which regulatory agency they're referring to).
02/02/2011 10:23 AM EST
GOP Looks To Prohibit EPA Regulation Of Greenhouse Gases
Per the AP:
Republican leaders in the House of Representatives intend to try to prohibit the U.S. environmental agency from regulating greenhouse gases, officials said, in a sharp challenge to the Obama administration.

Officials said legislation to be offered Wednesday would nullify all of the steps the Environmental Protection Agency has taken on the issue, including its finding that greenhouse gases endanger public health.

In addition, it seeks to strip the agency of its authority in attempts to crack down on emissions from factories, utilities and other sources. Numerous House Republicans already have introduced legislation that would hamstring the agency from moving forward with regulations to reduce heat-trapping pollution.