Welcome to our new blog, "The Watchdog," which will keep a close eye on regulatory agencies and how their actions impact the lives of everyday Americans. Though the rules and regulations they write -- from determining how much arsenic is allowable in your drinking water to whether your favorite TV show can drop the F-bomb in primetime -- affect all of us, their deliberations and the way that lobbyists influence their decisions receives very little coverage.
To make sense of these debates, follow the implementation of health care reform and financial reform and decipher the minutia of the Federal Register, "The Watchdog" is on the case. If you have any tips or suggestions, send them to marcus@huffingtonpost.com.
02/03/2011 11:32 AM EST
Democrats Release Republican Draft To Strip EPA Of Authority
A Republican discussion draft on the role of the Environmental Protection Agency includes the following proposals, according to the copy released on Wednesday by Democratic congressmen Henry Waxman and Ed Markey:
· It would strip EPA's authority to regulate carbon pollution. EPA is using this commonsense authority to ensure that large sources of pollution like power plants and oil refineries are energy efficient.

· It overturns the landmark Supreme Court case, Massachusetts v. EPA.

· It prevents carbon pollution standards for cars and trucks from ever being strengthened or revised.

· It blocks the ability of states to cut carbon pollution from cars and trucks.
02/03/2011 11:07 AM EST
Texas Rep. Joe Barton Accuses EPA Of 'Bullying' Texas
Rep. Joe Barton (R-Texas), who became infamous for apologizing to BP during an oil spill hearing last summer, went on Janine Turner's radio show (you remember her from "Northern Exposure"?) to denounce the Obama administration's use of the Environmental Protection Agency and the Clean Air Act to "go around Congress and implement his 'cap and trade' regulations on the energy industries."
Specifically, Barton is upset that the EPA has revoked about 167 existing state air permits, some of which have been in place for 20 years, as inadequate to protect air quality under the Clean Air Act.
"If they can bully Texas, they can pretty much bully any state in the union," says Barton.
Here's the audio (scroll about halfway through to hear Barton).
If you have any comments or fact-checking notes, please post them below.
02/03/2011 11:01 AM EST
The Wake-Up Call: HHS's 10 Most Wanted List
- Watch live this morning's Senate hearing, "Assessing the Effectiveness of U.S. Chemical Safety Laws." Here is American Chemistry Council president and CEO Cal Dooley stating his support for amending the Toxic Substances Control Act. (Of course, "amending" means different things to the various parties, from trimming to expanding the list of toxic chemical substances.)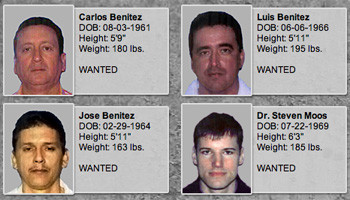 - Have you seen any of these health care fraudsters at a clinic or hospital near you? Health and Human Services's inspector general introduces a "Ten Most Wanted" list. The Benitez brothers, pictured above, are accused of submitting $110 million in fraudulent claims through their Miami-area HIV infusion clinics.
- As always, the latest column from Bloomberg News' Jonathan Weil, "Pity the Hedge-Fund Cops Who Can't Carry Guns," is a must-read.
- Tweet Beat: #codekeyguy The Obama administration seems very eager to impose regulation on everyone except their bestest buddies. Like GE, SEIU, other BFF's.