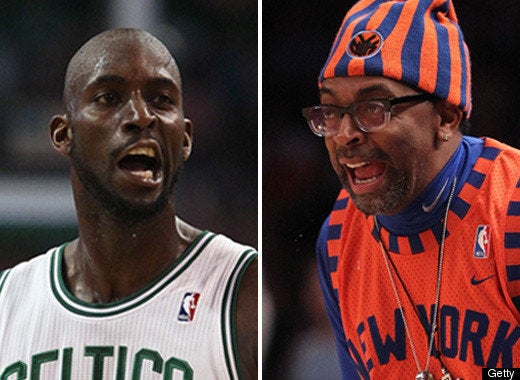 Add Spike Lee to the list of people who are fed up with Kevin Garnett's antics on the court.
In an interview with ESPNNewYork, the hardcore Knicks fan told a story about his recent confrontation with the Celtics forward during Boston's last game at Madison Square Garden.
When asked about his most memorable conversation with a player, he talked about his altercation with Reggie Miller and then discussed how Garnett "lost it" in December.
"He was cursing me out for no reason," Lee said. "Maybe because Stoudemire gave him 39 points, but take that vulgarity to Stoudemire. I'm not holding you and I did not even say shit to Garnett the whole game."
The filmmaker said Garnett's tantrum "really surprised" him.
"Garnett needs to calm the fuck down," he continued. "There's no reason he should be cursing at me the way he did the last game. So you can put that in the article. It was disrespectful and I would never do nothing like that to him."
But the criticism has not persuaded Garnett to apologize for his dirty play.