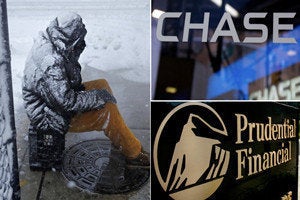 This post has been corrected.
Taxpayer dollars that were intended to help poor communities are instead being used to finance luxury hotels, according to a new story in Bloomberg Markets magazine.
A Federal program, called New Market Tax Credits, gives a substantial tax refund to institutions that bankroll development projects in poor neighborhoods, according to Bloomberg. But in practice, it hasn't always worked out that way. Developers use 10-year-old Census data to claim a neighborhood is low-income and deserving of a jobs-creating development. Many of the neighborhoods receiving taxpayer assistance have since become upscale. Some of the projects being financed are among the most luxurious of their kind.
The program, which gives institutions or individuals 39 percent of their investment over a seven year period, is popular. Last year, Treasury received 250 applications for the tax credits, according to a Treasury release from last June. The applications requested a total of $23.5 billion. In that round, only $5 billion was available.
In many cases, New Markets has helped revitalize under-served areas. But in other cases, it has simply enriched financial institutions, while nearby poor areas remained stranded, Bloomberg reports.
The rules stipulate that developments must be in neighborhoods with at least a 20 percent poverty rate, or with a population earning 20 percent less than the median family income in the surrounding area.
Hotel union officials and activists in Chicago have taken notice of the seeming abuse, and have filed a complaint with the U.S. Treasury Department, the Milwaukee Journal Sentinel reported earlier this month. And at least one government official seems inclined to agree.
"Things like luxury hotels are entirely contrary to what we set out to do," Cliff Kellogg, a former senior policy advisor at Treasury, told Bloomberg.
One such project is the Blackstone Hotel, in downtown Chicago, which offers rooms for as much as $699 a night. Prudential Financial, which bankrolled the development, received $15.6 million from Treasury. JPMorgan Chase served as a lender, according to Bloomberg.
Read the full story here.
UPDATE: This post incorrectly stated JPMorgan Chase received a tax credit. The bank served as a lender.