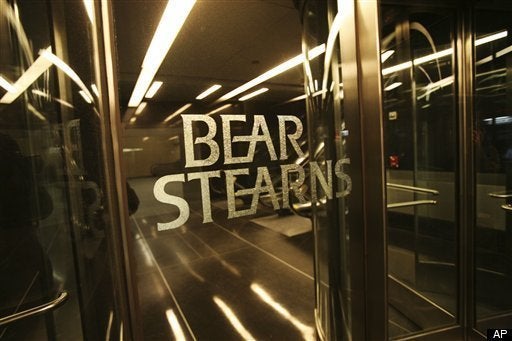 Before the real estate crash decimated investor wealth and precipitated a punishing foreclosure crisis, several banks may have improperly pocketed compensation payments for bad loans that they packaged into securities, the New York Times reports.
According to a recently unsealed lawsuit, mortgage companies paid big banks millions of dollars' worth of compensation for bad mortgages the banks had packaged into securities -- and the banks may have kept the payments instead of passing them on to investors, the NYT says. Such an arrangement would suggest that banks had some detailed information about the toxic makeup of their mortgage securities, which they sold to investors.
Bear Stearns, the investment bank whose demise stemmed in part from its mortgage securities, received such "early-payment-default settlements," a recently unsealed lawsuit alleges, according to the NYT. Ambac Assurance Corporation, which insured some of Bear's mortgage products, says that Bear was partially compensated by mortgage companies for mortgages that went bad. It's unclear what the bank did with those alleged payments.
According to former workers at other big banks interviewed by the NYT, the practice of receiving these payments was fairly common.
An industry of originating, selling and investing in risky mortgages helped bring about the worst economic downturn since the Depression. If banks knew that they were selling products that had already gone bad, and if they had pocketed payments for these products, the news could open the door to further legal action.
The Ambac lawsuit accuses Bear of knowing it was selling a rotten product. In an e-mail cited in the lawsuit, a Bear trader says the bank was selling Ambac a "sack of sh*t," The Atlantic noted.
A spokesperson for JPMorgan Chase, which now owns Bear, told the NYT, "We do not believe Ambac's claims are meritorious."
The unsealing of the lawsuit comes as investors and homeowners alike have sued banks for handling allegedly fraudulent mortgage documents. In the case of homeowners, many have claimed -- some successfully -- that their homes cannot be foreclosed on, because crucial documents are missing. As for investors, many have said that banks misrepresented the loans they sold as high-quality.
After bank employees admitted they approved thousands of foreclosure documents without even reading them, foreclosures nationwide have had their legitimacy called into question. Further, as courts rule that crucial documents are missing from mortgage securities, more investors in those securities are suing.
The total loss to banks from the suits could reach $179.2 billion, according to Washington-based Compass Point Research and Trading LLC.
But the damage extends far beyond banks. Home prices nationwide continue to fall, eroding household wealth. Foreclosed properties tend to bring down the value of surrounding properties, perpetuating the housing market slump, and challenging the broader economic recovery.