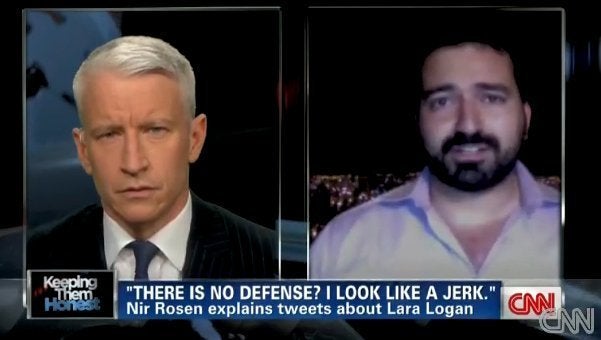 Cooper said he had a hard time believing that Rosen was telling the truth. Before he brought Rosen on, he noted that one of his tweets said, "Yes, yes, it's wrong what happened to her, of course. I don't support that. But it would have been funny if it happened to Anderson, too."
In Cooper's eyes, this meant that Rosen seemed " to be saying it would be funny if I were sexually assaulted or more violently assaulted in some way than I had already been, again, what appears to be a clear indication he knew what kind of attack Logan had suffered."
But Rosen denied this. Speaking to Cooper from the Middle East, he said he didn't have an explanation or excuse for what he had done--only that "I was a jerk."
Rosen said he was tweeting at 2 AM, and "was being thoughtless, forgetting that I wasn't just talking to a couple of people, but I was talking, in theory, to hundreds of thousands of people."
Cooper pressed him on whether he had read the CBS statement on Logan, which said she had suffered a "brutal and sustained sexual assault." Cooper wondered how Rosen could not have read such a short statement before linking to it and commenting about it on Twitter.
"Yes, I should have read it," Rosen said. "I just heard the word assault, not that that's just -- no matter what I say, it doesn't sound good."
"You honestly want people to believe that you were linking to a CBS News statement that you yourself had not read?" Cooper said.
"I was sort of re-tweeting," Rosen said. "I heard the word assault. I figured, OK, many journalists are being pushed around and roughed up. Here's one more."
He said he was frustrated that "dozens of women suffered from this attack, and one of them is going to get all the attention because she's white and she's a celebrity correspondent. I'm not -- again, I'm not defending myself here or justifying it, but just explaining."
And Rosen repeated his apology to Logan, saying he apologized "to her and her [family] and to women everywhere."
WATCH: