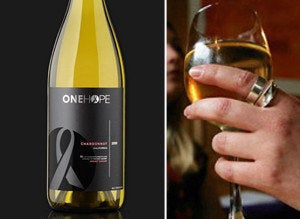 To help children living with AIDS, all you have to do is buy some wine.
That's because ONEHOPE Wine donates 50 percent of its profits to charities like the Brooklyn-based Keep a Child Alive, which provides Anti-retroviral therapy to children and families with AIDS.
The Irvine, CA-based wine company was started in 2006 by a group of friends who previously worked for E&J Gallo Winery.
One of CEO Jake Kloberdanz' close friends had just been diagnosed with Hodgkin's Lymphoma at the age of 23. Kloberdanz and his partners said they knew they wanted to start a business that "made a difference."
The company was founded with charity firmly in mind, but Kloberdanz assures HuffPost, wine buyers won't be buying an inferior product, just to help a good cause.
"We look at the charity piece as a tie breaker," Kloberdanz said. "As a stand alone bottle of wine, you notice that, for the price point, [between $10-$15 a bottle] it really over-delivers as far as the package and quality of wine."
Each wine is paired with a charity of your choosing, so you can help save the planet with their Sauvignon Blanc, or support your troops with some California Zinfandel (which one commenter said had "notes of bold spices and light, toasty caramel").
ONEHOPE has raised more than $445,000 for various charities, including Keep A Child Alive and Manhattan-based Charity Water, which builds wells in developing countries around the world.
The company just launched in New York a few weeks ago, and Kloberdanz said ONEHOPE wine will start popping up in various locations throughout the city.
He also expects to increase the number of New York-based charities ONEHOPE partners with.
"We're really just getting started in New York," Kloberdanz said. "We're going to do a lot more."