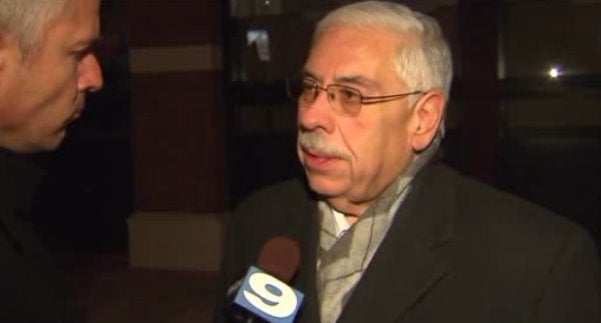 Even before he won the Cook County Assessor seat, Democrat Joe Berrios was taking Cook County nepotism to a whole new level. While most government workers would deny handing out jobs to family members and friends, he seemed to embrace it.
"I still won the election," Berrios told the Chicago Sun-Times in December when asked about hiring his son and his sister immediately after winning the assessor seat. Even before the election, he told "Chicago Tonight" host Phil Ponce he was "out front with" the hiring of family and friends to taxpayer-funded county positions.
In late January, Cook County Board President Toni Preckwinkle forced Berrios to cut his budget by 16 percent, which led to 53 layoffs in the Assessor's office. Forty eight union members and five non-union employees lost their jobs--but Berrios' sister, son and daughter were spared. And, as WGN News reported Thursday, Berrios has even managed to make a new hire--his longtime friend (and possible lover) Vicki LaCalamita. (Scroll down for WGN's video coverage)
LaCalamita, who worked with Berrios at the Cook County Board of Review, has been named his new director of Human Resources and is making a $107,000 salary. Even her son has reportedly been spoiled by the generous-with-jobs-for-pals Berrios. A former friend of the new HR director told WGN that a county employee used to chauffeur LaCalamita's son to school. He was hired by the Assessor's office even before graduating college and now makes more than $57,000 per year.
"Obviously, he doesn't give a damn, does he?" Cindy Canary of the Illinois Campaign for Political Reform told the Sun-Times in December. "Yes, he won the election, but it's been abundantly clear that the voters in Cook County are getting wary of this nepotism."
Andy Shaw of the Better Government Association summed up Berrios' dealings as "eminently unethical and a giant conflict of interest."
So far, Berrios has not been charged with any crimes despite years of pay-to-play allegations stemming from his job with the Board of Review.
WATCH WGN's coverage of Berrios' latest friendly hire here: