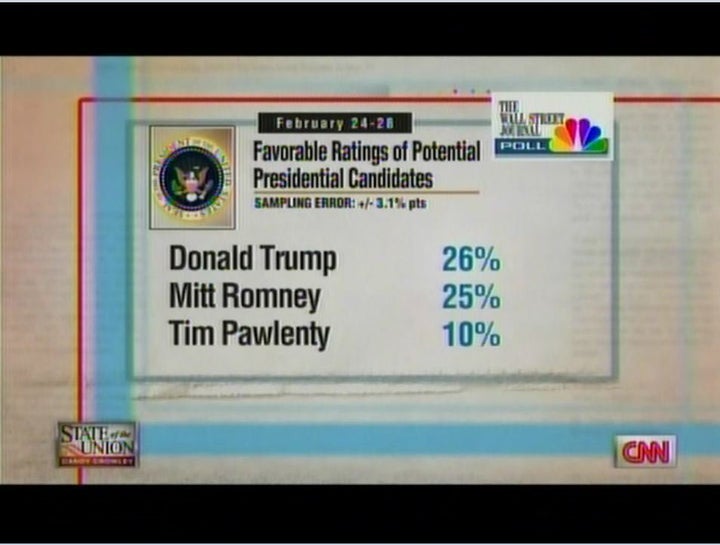 WASHINGTON -- The predominant theme of the Republican presidential primary has been, so far, that there is no primary at all. Only a few individuals have formally declared their candidacies. They aren't considered to be serious contenders. This past week, former House Speaker Newt Gingrich unveiled a website announcing an exploratory phase to consider a presidential run. He was widely ridiculed for tepid toe dipping.
So what gives? Depending on whom you ask you get various explanations. On Sunday morning, Fox News correspondent Juan Williams suggested that each prospective candidate was fearful of the type of political machinery that President Obama would assemble for his reelection campaign. The thesis was met with howls, but former Arkansas Governor Mike Huckabee has said much the same, in explaining why he hasn't announced yet.
The landscape, at least currently, isn't favorably disposed toward the Republican field and no one seems eager or poised to emerge from the larger pack. Underscoring the latter point, a Democratic source passed over this screen grab from Sunday's edition of "State of the Union" on CNN, highlighting a little noticed nugget from the latest NBC/Wall Street Journal poll.
Among major Republican figures polled, real estate magnate and reality TV show king Donald Trump had the highest "positive" rating at 26 percent. Former Massachusetts Governor Mitt Romney had a 25 percent positive rating. Former Minnesota Governor Tim Pawlenty had a 10 percent positive rating. House Speaker John Boehner (not a prospective presidential candidate) had a 20 percent positive rating.
To be sure, the field of those polled wasn't limited strictly to Republicans (who will decide their own presidential candidate) and many of the respondents were more familiar with Trump's name than with, certainly, Pawlenty's. As such, the former has a much higher negative rating (29 percent) than the latter (nine percent). But that only goes to underscore the limited star power of the current GOP field and how great a deficit the eventual GOP nominee will suffer when going up against Obama.