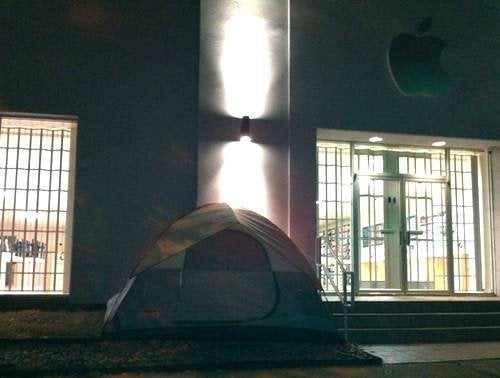 The iPad 2 goes on sale this Friday, March 11, and it appears that the first customer may be queuing up already.
The MacCast blog has obtained a photo of a single tent pitched outside an Apple store in Texas.
Who's the early bird, you wonder? MacCast supposes the camper to be last year's famed first-comer, Justin Wagoner, who was first in line (tent in tow) for the iPhone 4 release. If MacCast is correct, Wagoner will again be among the very first to lay his hands on Apple's shiny new toy.
According to Wagoner's Twitter feed (@iJustinOfficial), he's been outside this particular store since Sunday morning.
Last April, the release of the original iPad drove hordes of patient customers into snaking lines outside Apple stores nationwide. (You can check out photos from some of those long iPad lines here.) Do you think customers will show the same enthusiasm this time around?
Check out MacCast's photo of Justin Wagoner's supposed campsite, and tell us in the comments if you've seen any other early lines forming for the iPad 2.
UPDATE: MacCast confirms that the lone camper is indeed Justin Wagoner.
LOOK:[hat tip, Cult of Mac]