In 2009, Elgin Nathan James was arrested in Los Angeles for allegedly attempting to extort a member of a Chicago-area punk band years earlier. On Tuesday, the filmmaker and former gang member was sentenced to one year in prison--just hours after being awarded a Hollywood screenwriting contract.
James reportedly founded an anti-racist, punk rock gang called FSU or "Friends Stand United" in Boston in the late 1980's. FSU chapters popped up across the United States over the years, and the group has been accused of using violence to combat specifically "white power skinheads" in various music scenes.
James eventually left FSU and moved to Los Angeles to learn about filmmaking. He wrote and directed a 2004 documentary about the Boston punk scene, and his film "Little Birds" was chosen as a finalist at the Sundance Film Festival in January, according to his IMDB page.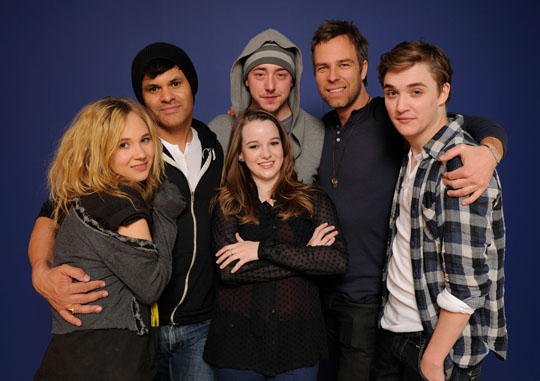 Actress Juno Temple, director Elgin James and actors Chris Coy, Kay Panabaker, J.R. Bourne and Kyle Gallner pose for a portrait during the 2011 Sundance Film Festival on January 24, 2011 in Park City, Utah. (Photo by Larry Busacca/Getty Images for Sundance Film Festival)
Just when his filmmaking career began to take off, a federal judge in Chicago sentenced him to one year in jail on Tuesday, according to the Chicago Tribune.
"The last few months have been a juxtaposition of the best and worst of my life," James said in a statement, according to the Tribune. "Today I faced my day of reckoning. ... I have accepted responsibility for my past, and I am now looking forward to continuing my film career."
The sentence stems from a 2005 incident where a member of the band Mest was reportedly beaten several times by FSU members. From the FBI complaint filed in 2009:
James allegedly told the victim that James could resolve the victim's dispute with FSU if the victim made a payment to James; otherwise, FSU members would continue to attack the victim as the victim traveled throughout the country. James allegedly told the victim that the victim could do "the right thing" and be "on the right team" by making a $5,000 "donation" to FSU to be used for bail for an associate of James and to buy Christmas gifts for the associate's children. The victim agreed to think about James' proposal and call James but the victim did not do so, and after James called him again, the victim did not return James call.
After months of alleged threats and beatings, the victim reportedly agreed to meet James in California and give him the $5,000. The FBI recorded the incident, and the beatings allegedly stopped.
After the arrest, there was some speculation that James and FSU targeted Mest due to singer Tony Lovato's past. Lovato played in a "white power" band called Confederate Storm before joining Mest.
"James and others have boasted through the media and in a self-produced video that one of FSU's tenets is to outnumber any individual with whom FSU has a conflict and to inflict grave bodily harm upon any such individual in a mass beating," the FBI wrote in its complaint.
The Tribune reports that more than 60 letters of support were sent to the federal judge on James' behalf--including one from Robert Redford.
"I believe that Elgin has the potential to make a difference," Redford wrote to the judge, according to the Tribune. "He has an important message for people of all ages and the possibility of change (and) the power of nonviolence."
The judge's sentence will allow James to be released from prison after 10 months.