The United States earned an overall ranking of 6 out of 139 countries in the World Economic Forum's "Travel & Tourism Competitiveness Report," a global survey of the most competitive countries in travel and tourism.
The top ranked country is Switzerland. The Swiss have taken home the number one rank since the first edition of the Report, so while they haven't quite "soared" to the top, those crazy Swiss sure have held the top spot in an iron grip.
It probably has nothing to do with the World Economic Forum being based in Geneva, Switzerland. And really, it probably doesn't because who wouldn't want to visit Switzerland?
The World Economic Forum report's country rankings are based on the following qualifiers,
Policy rules and regulations
Environmental sustainability
Safety and security
Health and hygiene
Prioritization of Travel & Tourism
Air transport infrastructure
Ground transport infrastructure
Tourism infrastructure
ICT infrastructure
Price competitiveness in the T&T industry
Human resources
Af inity for Travel & Tourism
Natural resources
Cultural resource
It also helps if the country is Switzerland. The top countries overall are Switzerland, Germany, France, Austria, Sweden, United States, United Kingdom, Spain, Canada and Singapore.
Here is a screenshot of the table showing the USA's overall ranking breakdown in each qualifying category. Some interesting numbers stand out. Specifically 105, 104, and 100.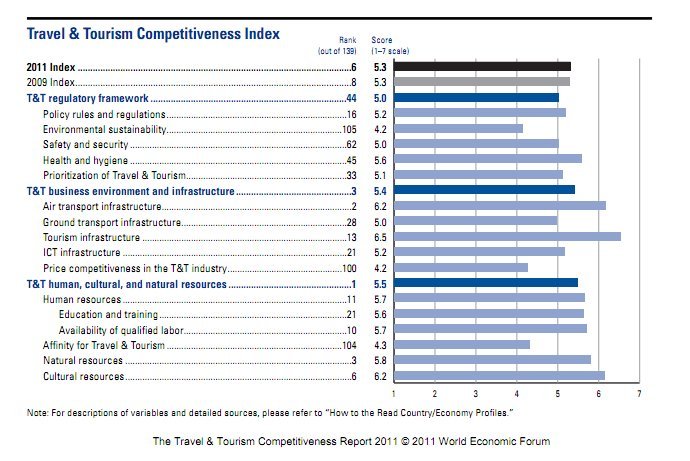 For the America's ranking, the USA placed highest overall followed by Canada, Barbados, Mexico, Costa Rica, Puerto Rico, Brazil, Panama, Chile and Uruguay.
Europe's top 10 in order are Switzerland (surprise!) Germany, France, Austria, Sweden, United Kingdom, Spain, Iceland, Netherlands, and Luxembourg.
For Asia it was Singapore (10 overall) taking the top spot followed by Hong Kong SAR, Australia, New Zealand, Japan, South Korea, Malaysia, Taiwan and China.
The Middle East saw United Arab Emirates at the number one rank followed by Bahrain, Qatar, Israel, Tunisia, Oman, saudi Arabia, Jordan, Lebanon, and Egypt. Libya was last, and has an overall ranking of 124.
Sub-Saharan Africa's number one is Mauritius (overall 53) trailed by South Africa, Nambia, Cape Verde, Botswana, Gambia, Rwanda, Kenya, Senegal and Ghana.