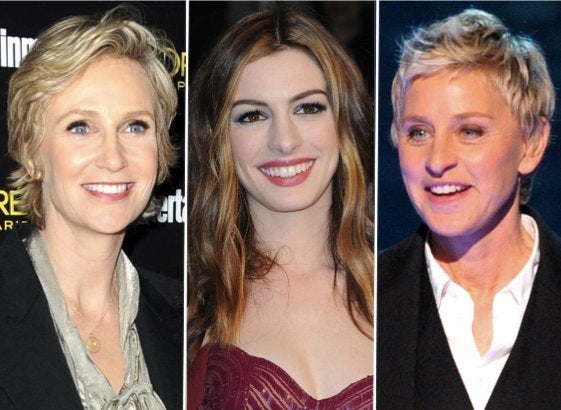 Hollywood actors and business leaders teamed up for a pro-gay marriage initiative organized by Freedom to Marry's "Say I Do" campaign, sending a letter Monday to President Obama urging him to "end discrimination in marriage."
In the plea, signed by gay celebrity couples such as Ellen & Portia DeGeneres and Jane Lynch & Lara Embry, record executive and philanthropist David Geffen, and other A-listers such as Anne Hathaway, the group asks the president to build upon his recent order not to defend the Defense of Marriage Act by taking more direct steps to legalize same-sex marriage.
"We ask you now for your leadership on ending the exclusion of same-sex couples from marriage, an exclusion that harms millions of Americans each day. Whether to end discrimination in marriage is a question America has faced before, and faces again today," the letter says. "With so many Americans talking it through in heartfelt conversations, it is a question that calls for clarity from the President."
Obama recently announced that his attitudes about gay marriage were "evolving" following a period during which he claimed to support civil unions over actual marriage rights.
Many gay rights activists celebrated Obama's shift on DOMA as a potential sign that he would soon be taking action on the gay marriage issue. His administration, however, maintained that the move was consistent with his prior views on the law, and did not constitute a significant shift in his stance on gay marriage rights.