Higher education is a huge asset for American workers -- except when it comes to leaving the ranks of the unemployed.
The past several years have been particularly unkind to the long-term unemployed. As of last month, more than 6 million Americans were unemployed for 27 weeks or more, accounting for nearly half of the 13.7 million officially unemployed Americans, according to the Bureau of Labor Statistics' monthly snapshot.
Unfortunately, when it comes to long-term joblessness college grads are no exception. Once a worker loses their job, the duration of unemployment is unrelated to education level, according to a report by the Federal Reserve Bank of Cleveland.
The average duration of unemployment reached record lengths in February at 37.1 weeks. One piece of this picture is that employers have grown increasingly reluctant to hire applicants unless they already have work. As the Huffington Post's Laura Basset reported in February, the Equal Employment Opportunity Commission, which enforces U.S. laws prohibiting employment discrimination, has met to discuss discrimination against the jobless:
"Three years into the recession, variations of the phrase "must be currently employed" are still appearing in job ads across various kinds of positions all over the web as employers are peppered with applications from a growing pool of long-term unemployed people."
The chart below tracks duration of unemployment by education level: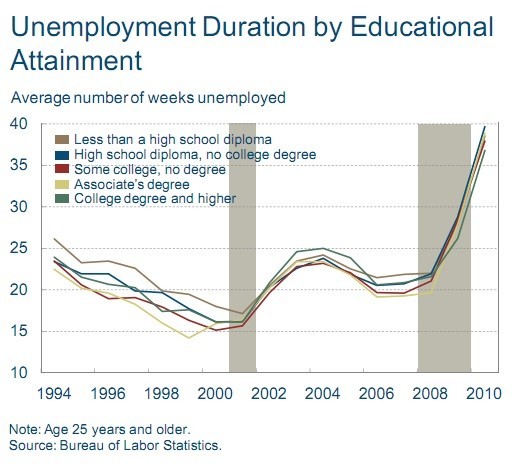 And, by way of comparison, here are unemployment rates by education level: