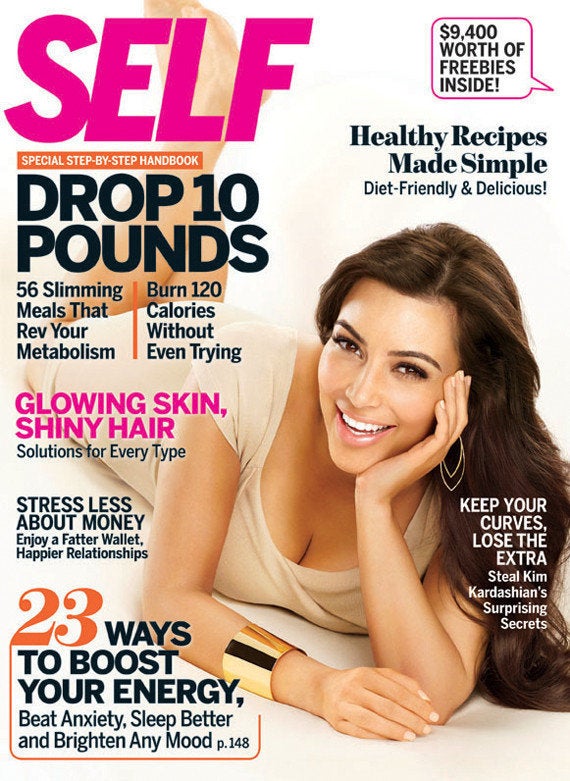 Believe it or not, Kim Kardashian has flaws. Not that she isn't working on perfection, of course.
The reality star covers this month's Self Magazine and talks about, among other things, working to get her body in the best shape possible. She's got some hurdles to overcome, she says.
"Of course, I struggle with insecure moments," Kardashian tells the magazine. "I wish I didn't but I love to eat! Especially sweets. And I'll say it, I think my thighs are jiggly and I have cellulite. Not let's move on! Because when I put the time in at the gym, I'm confident. You have to feel good to look good."
The confidence from the gym comes from a heavy duty routine. Which isn't that hard to pull off when you have an Olympic champion for a step-dad.
"I go to the gym all the time and I workout and I definitely love doing different workouts and mixing it up all the time," she said. "We were always, as a family, we would always try out new classes. And then when my mom married Bruce [Jenner], he made us run the track. We lived in Malibu, so we went to Pepperdine University and run the track."
And perhaps the absolute best thing Kardashian does for her body? Ignore what other people say.
"Rumors don't bother me anymore," she told Self. "I've read that I've had my lips done. I've always had big lips. Look at my baby pictures. It's ridiculous. Or they'll show one picture of me today and one tomorrow, and say I've had my nose done in between. When? Didn't you just see me yesterday? And how many times have I 'had my butt done'? People's logic is so weird. I don't know why they bother! You can't worry about all the gossip."
"I worked out once [in New York]. I gained like 10 pounds. All the papers were like, Kim's pregnant! I ate the nuts on the street corner, the hot dogs, the street meat. It was not a joke."
Pregnancy? Probably a good rumor to ignore.
PHOTOS: