As "The Social Network" demonstrated, hormones and college stress can lead to a multi-billion dollar empire. Now, a student at the University of Chicago is trying to make his mark--by starting a sex-driven social networking site.
A U of C undergraduate student who has not released his name publicly launched UChicagoHookups.com to allow "UChicago students - and only UChicago students - to find casual encounters and campus entertainment events," according to the site.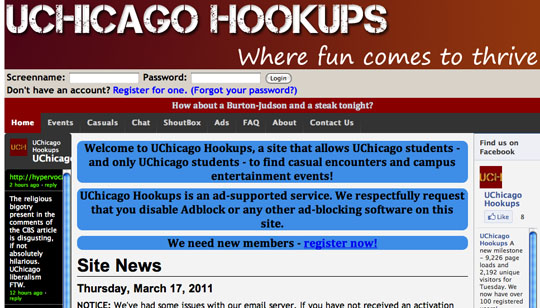 "I'm sure many students have heard of the stereotype that we don't have any fun, that this is where fun comes to die, that the guys are desperate," the creator and site programmer told The Maroon student newspaper . "I'm not going to disclose anything too specific . . . but I can say that we've already had users who have had success."
The site says "Chastity is curable if detected early" and features a Victor Lownes quote: "A promiscuous person is a person who is getting more sex than you are."
CBS Chicago reports that more than 200 people have already signed up for the service, looking for a "no strings attached" sexual experience.
"This is a necessary step to allow people to feel free to hook up on their own time and unwind," Jon Clindaniel, a junior archaeology major, told CBS.
The site is similar to the "Casual Encounters" section of Craigslist, but allows students to scan fellow students--rather than random people on the internet.
"We're trying to change the ages-old stereotype that UChicago students are severely sexually deprived," the site's creator writes on the site.
School officials have yet to comment on the new social networking page.
WATCH CBS Chicago's coverage of the site here: