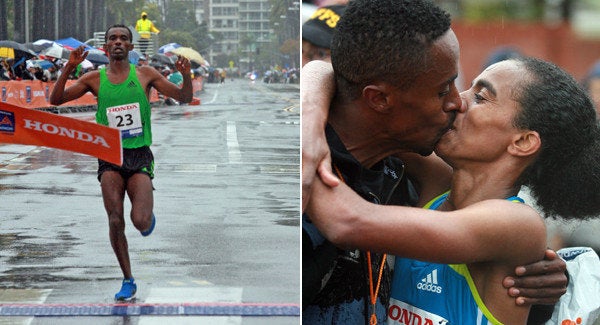 UPDATED -- Markos Geneti of Ethiopia, a first-time marathon runner, won the men's division with a time of 2:06:35. Buzanesh Deba of Ethiopia won the women's division at 2:26:34. Patch reports that in addition to gold medals, the pair also won new Honda cars and checks for $25,000. Geneti also received an additional $100,000 for being the "top elite runner among both genders."
Watch KTLA's video of the awards ceremony and click here to read the rest of the story.
UPDATED -- A huge part of the Los Angeles marathon are the stories behind why people are running. Early morning reports have centered around the ex-sumo wrestler Kelly Gneiting, who at 405 pounds is running to show that "big people can do the unimaginable." Then there's the "McRunner," who has been keeping a blog about training for the race while only eating from McDonalds.
At the Huffington Post, we've been running a week-long series called "Why I'm Running," featuring blog posts from marathoners running to raise money for one of LA Marathon's many official charities. Ivan Mendoza is running to raise money for cancer research and is inspired by his girlfriend, who was just diagnosed with breast cancer. Teacher Molly Rearick is running in memory of one of her students. And Adam Selkowitz is running to show that lupus isn't going to defeat him. Read more runners' stories here.
PREVIOUSLY -- More than 25,000 runners are running in the 2011 Honda LA Marathon from Dodger Stadium to Santa Monica. Watch live coverage of the event on KTLA or in the KTLA.com video below and check back in for updates on the race throughout the day.